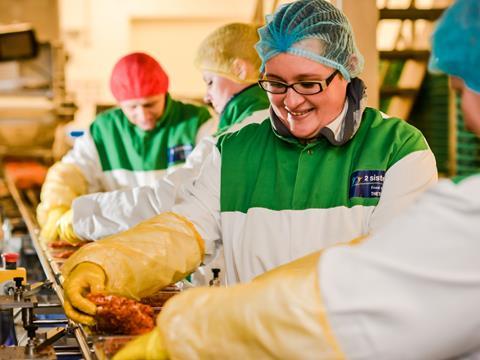 The latest move in 2 Sisters Food Group's far-reaching restructure could lead to the closure of another poultry processing site, with more than 500 jobs facing the axe at Witham in Essex.
The poultry giant today (21 May) said it had entered into a 45-day consultation period at the cutting site, as part of a restructure that has already seen it close factories at Smethwick and at Cambuslang in Scotland during the past year – with the loss of more than 800 jobs.
The move is part of a push to streamline the Ranjit Singh-owned company's sprawling manufacturing estate. It is aiming to bring operations such as cutting and killing under one roof, allowing it to become "more competitive against its peer group", and to create "shorter, more efficient supply chains".
It comes after a spate of divestments by the business, and follows a fall of £45.5m in pre-exceptional operating profits to £22.1m at parent Boparan Group last year, as margins plunged in the core poultry business.
"We're all acutely aware some of our plans, such as reducing our UK poultry footprint, brings uncertainty for colleagues, and it is with regret that we have to make such proposals," said 2 Sisters CEO Ronald Kers. "But the alternative of doing nothing and hoping for an upturn is not an option."
However, Kers said 2 Sisters would also "accelerate our turnaround" with a significant investment in both the poultry business and at Fox's biscuits.
The Grocer understands up to £10m each will be invested in the two divisions, with greater automation set to be rolled out across the poultry operation. Perennial sale candidate Fox's will also benefit from further automation, in addition to a funding boost for NPD and marketing activity.
2 Sisters had also secured new, longer-term customer commitments at its Gunstones bakery, "giving a strong platform on which to build a sustainable future" said Kers. Meanwhile it had also repaid a £250m bond due to mature in July, seen by Kers as a "significant step forward" for the business.
In an extensive business update, the company also confirmed a sale of its Matthew Walker Christmas pudding business was in its "early stages".
"Our stated strategy is to become the number one poultry plus business in Europe and for several months now we have been engaged in a strategic review to facilitate our delivery on this, focussed on improving execution, reducing cost and building a better organisational culture," Kers said.
"But there is now a pressing need to accelerate our turnaround so we can further increase the performance of our business. That's why we're keen to invest where we see potential growth."