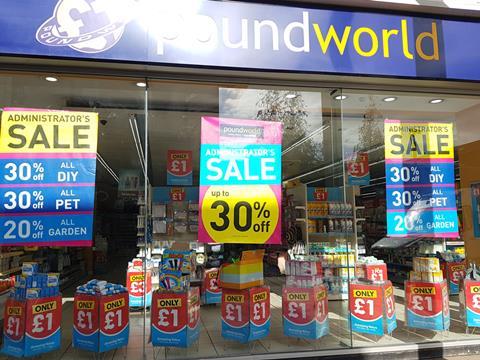 Poundworld has made over a third of head office staff redundant after falling into administration.

The variety discounter axed 98 of around 270 head office posts yesterday as owner TPG Capital reviewed bids to buy parts of the business.

Stores had launched an 'administrator's sale' with posters in windows advertising 30% off lines.

Around 4,800 jobs and 335 stores remain at risk pending the outcome of negotiations with bidders, with a decision expected to be announced this week.

Former head office staff posted about losing their jobs on LinkedIn.

'Going to work this morning I did not expect to lose my job today,' wrote one.

'I will miss a lot of great people, today has been truly upsetting to say goodbye and walk out of those doors for the last time.'

Another wrote simply: 'I am now on the lookout for a new role.'
Store staff posted messages of sympathy, with one manager saying: 'A very sad day today for those in head office. Fingers crossed for all of us.'
A Poundworld source confirmed to The Grocer: "Yesterday there were 98 redundancies of senior team members at head office, out of a total of about 270."

The source said there had been no redundancies in stores and no branch or distribution centre closures since the announcement that administrators Deloitte had been appointed on Monday last week.

"Bids were all put in by potential purchasers for parts of the business last week on Friday and they're going through them now," the source added. "I would expect something this week in terms of an announcement of who might be buying."

Bidders are likely to include Poundworld founder Chris Edwards, who last week said he had been negotiating with TPG.

The chain fell into administration after talks fell through with prospective buyers of the business as a whole, including RCapital and Alteri Investors. That followed a restructuring plan under which 117 branches of the store estate were already set to close.