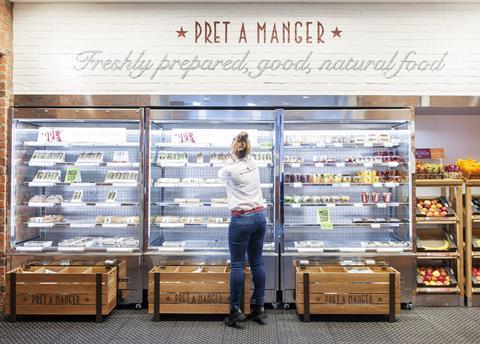 Sandwich chain Pret A Manger is to cut 2,800 jobs, affecting more than a third of its workforce in a bid to survive.
The announcement signals the completion of a two month consultation period and the restructuring of the UK business which saw 30 its shops close permanently.
It comes as Pret reveals the crisis and subsequent lockdown has wiped out ten years of growth putting weekly sales back to £5m, the level they were at in August 2010.
The job cuts will primarily affect those members of staff who work in-store, with 90 employees also laid off from central support teams.
Thousands of the remaining 6,000 staff have reduced their hours in order to preserve a further 1,000 roles as transactions levels remain low and opening hours continue to be reduced.
Despite trade being down 60% across the business year on year, Pret said there are signs of recovery as weekly sales have grown on average by around 7% since the end of July.
"I'm gutted that we've had to lose so many colleagues," said Pret's CEO, Pano Christou. "Although we're now starting to see a steady but slow recovery, the pandemic has taken away almost a decade of growth at Pret. We've managed to protect many jobs by making changes to the way we run our shops and the hours we ask Team Members to work.
"I'm hopeful we'll be able to review all these changes now that trade is improving again, and I'm encouraged by the improvements we're seeing every week. We'll soon be announcing a number of big changes to help bring Pret to more people. We're grateful to the Government for the support they've given our sector, and hope that support will continue as long as possible to give Pret time to adjust."
At the end of May, Pret appointed consultancies A&M and CWM to advise on a comprehensive transformation plan for the business, focusing in particular on the cost base of the business.
This included leasehold pressures in light of the changed market conditions. As a result discussions with landlords across the Pret estate are ongoing over a more sustainable leasehold model.