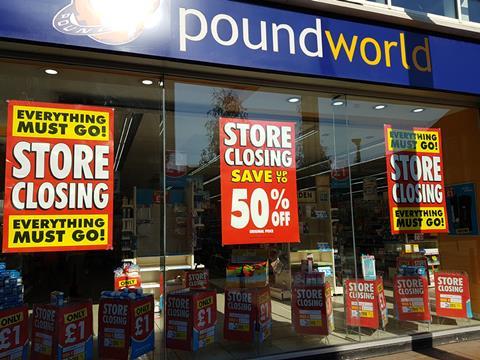 All remaining Poundworld stores along with the distribution centre are to close by 10 August, the administrator for the high street chain has confirmed.
The distribution centre in Normanton will close tomorrow (20 July) resulting in 299 redundancies across warehouse and head office functions, according to a statement from Deloitte.
Seventy-eight stores are to close either on Thursday 26 July or Sunday 29 July and another 112, the last of the 335-store estate, by 10 August.
The latest 190 store closures will mean 2,339 job losses and bring the total number of redundancies since Poundworld entered administration on 11 June to around 5,100.
The closures have been scheduled although discussions will potentially continue with parties interested in saving parts of the business, according to Deloitte.
"We would like to thank all the employees for their continued support and commitment during this difficult time," said joint administrator Clare Boardman. "We are keeping staff appraised of developments as they happen."
Deloitte listed the store closures scheduled for 26 July or 29 July as follows.
| Location | Total Headcount |
| --- | --- |
| Accrington | 11 |
| Alloa | 12 |
| Armagh | 18 |
| Aylesbury | 7 |
| Ayr | 13 |
| Barnsley | 9 |
| Barnsley | 9 |
| Blyth Pw | 7 |
| Bracknell | 8 |
| Bradford | 16 |
| Brighouse | 11 |
| Bristol Bradley Stoke | 13 |
| Clydebank | 13 |
| Colwyn Bay | 8 |
| Cookstown | 12 |
| Cramlington | 6 |
| Crossgates | 7 |
| Darlington | 11 |
| Dartford | 23 |
| Derby | 13 |
| Doncaster Bb | 19 |
| Durham | 14 |
| Edinburgh | 10 |
| Ellesmere Port | 12 |
| Exeter | 13 |
| Falkirk | 12 |
| Gosport | 10 |
| Gravesend | 14 |
| Hamilton | 10 |
| Hemel Hempstead | 10 |
| Hereford | 13 |
| Hull | 7 |
| Leeds | 12 |
| Leith | 10 |
| Leith | 9 |
| Llanelli | 18 |
| Londonderry | 15 |
| Manchester Fort | 14 |
| Mansfield | 7 |
| Middlesbrough | 17 |
| Middlesbrough | 20 |
| Middleton | 10 |
| Nelson | 10 |
| Newport | 11 |
| Northampton | 16 |
| Nottingham Lady Bay | 15 |
| Omagh | 17 |
| Paisley Bb | 21 |
| Peckham | 13 |
| Peterborough | 12 |
| Port Glasgow | 11 |
| Preston | 10 |
| Preston | 9 |
| Rayleigh | 11 |
| Rhyl | 10 |
| Rotherham | 10 |
| Sale | 3 |
| Salford | 7 |
| Shawlands | 9 |
| St Helens | 11 |
| Staines | 8 |
| Stechford | 16 |
| Stevenage | 18 |
| Stockton | 10 |
| Swadlincote | 11 |
| Torquay | 6 |
| Waltham Cross | 10 |
| Warrington | 11 |
| Washington | 13 |
| Washington | 11 |
| West Ealing | 12 |
| Widnes | 6 |
| Wisbech | 13 |
| Woking | 17 |
| Workington | 7 |
| Worksop | 8 |
| Wrexham | 11 |
| Wythenshawe | 10 |
| TOTAL | 907 |