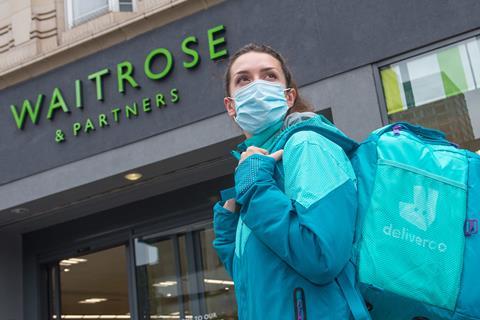 Waitrose will create up to 400 new store roles to handle Deliveroo orders following a significant expansion of its partnership with the delivery platform.
The jobs will be located in the 110 additional shops across the country that will come onto the Deliveroo platform by the end of summer. The new roles will be dedicated to fulfilling orders and readying them for collection by Deliveroo couriers.
Hundreds of products were made available from five Waitrose stores in September. By the end of last year, 40 stores were on the platform.
Waitrose said sales of its products through Deliveroo have been "strong" and the tie-up was "helping to attract new and younger customers".
The latest expansion – part of a two-year deal between the platfrom and retailer – is expected to take the number of people able to enjoy Waitrose food on Deliveroo to around 13 million.
Deliveroo users will be able to order from an increased range of between 750 to 1,000 products and have it delivered in as little as 20 minutes from Waitrose stores across Scotland, the north west, north east, Midlands, south west, south east and London. New locations on Deliveroo will include shops in Cheltenham, Lincoln, Exeter, York and Sheffield.
The expanded range includes free-from, dairy alternatives, vegan, flowers and gifts, as well as a selection of product bundles. Lemons and avocados are consistently the most popular customer choices on the Deliveroo platform, Waitrose said, closely followed by bananas, blueberries and strawberries.
Read more:
"Our partnership with Deliveroo has already proved extremely popular with the vast majority of customers returning week on week, helping to create a healthy balance of loyalty and attracting new and younger customers," said Nina Bhatia, executive director for strategy and commercial development at the John Lewis Partnership.
"Today's announcement demonstrates our ambition to grow our business and reach customers in new ways through developing partnerships alongside our own channels," she added.
The Deliveroo tie-up is part of John Lewis Partnership's strategy – set out in July last year – to "look at commercial partnerships to allow Waitrose to grow efficiently and give customers more convenient access to its products".
As part of that strategy, in the past year the number of John Lewis click & collect points has increased to more than 900 locations. Meanwhile Nespresso, Boden and Sweaty Betty orders can now be collected from selected Waitrose and John Lewis shops.
"We have grown our online business at pace in the last year, responding to huge demand for online groceries and offering more choice in when and how people want to shop with us. We know convenience is key for many of our customers and the expansion of the service with Deliveroo will play an integral role in helping us make Waitrose food more convenient than ever before," said James Bailey, executive director for Waitrose.
The announcement follows Deliveroo's Q1 trading update earlier this month, in which it revealed orders in the UK had grown 121% year on year to 34 million. This growth was "primarily driven by the addition of new consumers" Deliveroo said.
"Waitrose is one of the most respected and loved British companies and we are proud to expand the extremely popular Waitrose service on Deliveroo," said Carlo Mocci, chief business officer UKI, Deliveroo. "As we expand further across the country, this partnership will mean more choice and selection for our customers, delivered in as little as 20 minutes, and will create even more work for riders right across the UK."