This article is part of our Home Baking Digital Feature.
Baking isn't just for girls (just look at Paul Hollywood). In fact, men are more likely than women to be among the group of hardcore bakers that don a pinny more than once a week to cook up something tasty, according to our research.
Still, outside this niche group, men are out numbered by women and the number of home baking occasions in Britain in the past year has dropped 8.6% [Kantar] with declines more prominent among male bakers.
All is not lost. "We think there is still a great opportunity for brands to seduce men back into baking," says Nicola Strange from strategic brand design agency Coley Porter Bell.
"Brands must understand trends and attitudes in and out of the baking category, blending these insights with wider health and cultural trends. If they do this, they will become relevant and desirable."
So, what shape could these on-trend products take? We've asked Coley Porter Bell to dust off their aprons and come up with three concepts designed to get men baking. Here are the results….
Dough for balls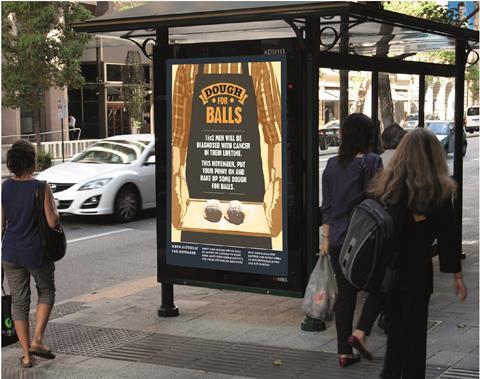 Dough for Balls pitches baking to men in aid of testicular charities, giving men a socially acceptable occasion for men to bake for their mates.
"In our research, men struggled to identify a time or occasion they would feel comfortable debuting their home bakes to friends. They'd say: 'Sure, the lads would eat it, but I'd get a hell of a lot of s*** for it'," says Strange.
So why charity? Strange notes the success of The Macmillan coffee mornings but says the feminine language used in the campaigns, such as 'enjoy some gorgeous treats', could be off-putting to men.
"We wanted to create a similar campaign, but targeted at men. Male-health charities have particularly enjoyed a new surge in awareness thanks in part to social media," she says.
"Our concept, Dough for Balls, takes visual inspiration from the existing campaigns Movember and Feel Your Nuts which both blend humour, empathy and quirky graphics to make a serious issue relatable and accessible."
The Man Cake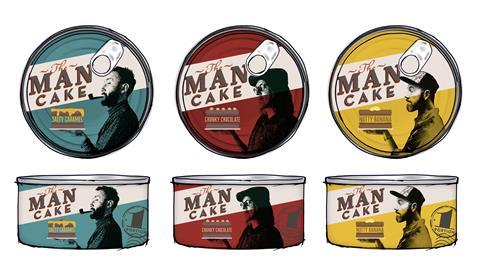 The Man Cake is described by Strange as a "fuss-free, treat for one". Indeed, it overcomes two barriers to getting men to bake: a lack of their own baking equipment and the void in the market for individual cake mixes. It comes in three flavours – salty caramel, chunk chocolate and nutty banana – and can be baked in the tin it's purchased in.
Home baking has often been thought of as something fit for an occasion, but Strange cites research from Mintel which found more of us are likely to bake for enjoyment or to relax, meaning there is a desire for products which compliment this attitude shift and satisfy the craving for a treat.
"There is currently a void in the market for single-serve cake mixes, with no mainstream brands operating in this space at all," she says.
Although it looks a bit like the Fray Bentos of the cake world, The Man Cake has a very different audience. If the packaging is anything to go by, it's aimed at hipsters (check out those beards).
"The Man Cake is inspired by design codes from craft beer, a category that fittingly represents the qualities of individuality, craftsmanship, artisan and homemade," says Strange.
HIT Protein Bar Pack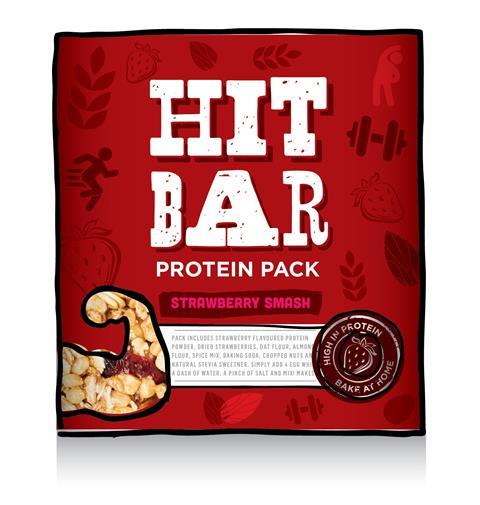 High protein foods are popping up everywhere – from frozen yoghurt to crisps. Brands have been dialling up the focus on the high protein content in a bid to make foods that have typically been considered feminine more masculine.
"Men engaged by high-protein messages are more likely to be interested in health & fitness, with many of the men we spoke to admitting to spending a lot of money on protein-bars for their post/during workout consumption," says Strange.
"Here, we identified an opportunity to combine protein and home baking. We also took into consideration wider cultural trends in both baking, and this health conscious target audience, and a dislike for artificiality came out strongly."
The HIT Protein Bar Pack includes all the ingredients to make a batch of high-protein, nutritious protein bars. The consumers simply combine the ingredients, pour into a baking tray and bake.The transparent window on pack highlights the natural ingredients, and our approachable type and icons suggest a holistic approach to health and life.
In partnership with