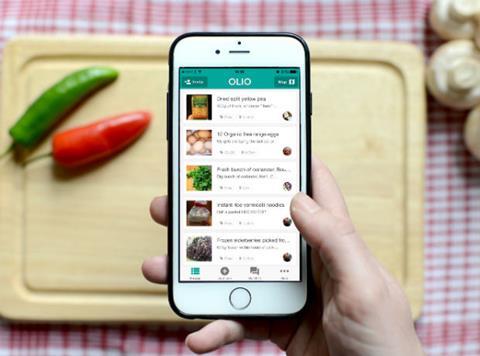 Nearly a third of Sainsbury's-funded food waste 'discovery communities' have made food sharing app Olio part of their plans, The Grocer has learned.

Of the 29 communities that received £1m in funds from Sainsbury's last month, nine will be using the app to cut food waste, Olio revealed.

Two of the areas - Durham and Poole - will use the funding from Sainsbury's Waste Less, Save More project to employ dedicated Olio co-ordinators. These co-ordinators will encourage sign-ups and use of the app, which enables neighbours to share their surplus food.

The remaining seven - Norfolk, Kirklees, Oldham, Bournemouth, Pembrokeshire, Cambridge and Havering - will raise awareness of the app through local council leaflets, websites and social media.

Last year, Sainsbury's reported positive results from using Olio to cut food waste in Swadlincote, the test site for Waste Less, Save More. Within six months, 10,000 items of food were shared and nearly 1,300 residents had signed up to the app.

In Swadlincote, Sainsbury's made surplus food from its branch available on the app and it has done the same for seven other branches in Derbyshire. But Olio co-founder Saasha Celestial-One said it was not clear whether this would be the case in the 'discovery communities'.

"Sainsbury's is very focused on Waste Less, Save More, which is about reducing household waste rather than retail waste," she said.

"I'm ecstatic about the funding because we are such a tiny team with limited resources, so it really amplifies what we are doing," she added. "I genuinely believe it's just a matter of time before food sharing becomes completely mainstream. The more investment that goes into building awareness then the shorter time until that happens."

Last month, Sainsbury's revealed it had failed to halve food waste in its year-long Swadlincote trial, instead reducing it by a single-digit percentage. But it vowed to press ahead with ambitious nationwide plans, which included the release of £1m funds to 29 discovery communities and support and advice for the remaining 118 involved in the scheme.