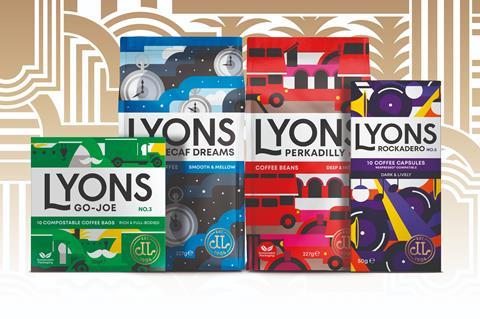 Lyons has completely rebranded and relaunched its range of coffee bags.
The brand's packaging has been given a more modern look, and the flavours have been updated. They are now called Go-Joe, Decaf Dreams, Perkadilly and Rockadero.
"We didn't want Lyons to be too serious, so we went back to the roots of the brand," said UCC Coffee commercial director Marcus Swift. "We've done a lot of work on the taste profile."
The bags have been switched to a new sustainable, plant-based material, meaning they are now fully compostable. "We've found a way to move it into compostability without losing any of the integrity of the product," said Swift. "We want Lyons to be a sustainable brand for the future."
Packs have also been brought down in size from 18 to 10 bags, with a new rsp of £2.20, which Swift said would make the brand a more competitive choice.
"They are designed to be an everday purchase, coming in at an accessible price point."
The brand had "never spent the sort of money that we're about to spend before on a launch package", he added.
It comes as the Lyons brand has taken a knock in the supermarkets over the past year: sales of its instant coffee were down 7.4% last year, while sales of its ground coffee were down 23.6% [Nielsen 52 w/e 7 September 2019].
The market had "become really competitive" over recent years, said Swift. "We're starting to have some really encouraging debates with grocery customers."