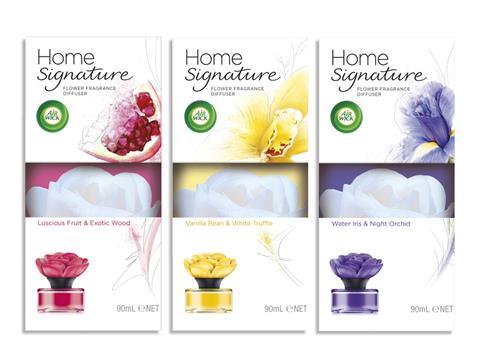 Reckitt Benckiser is to debut a premium range of stylish decorative home fragrances under its Air Wick brand, following "major success" in Australia.

Rolling out at the end of January, the Air Wick Home Signature collection comprises a rose-shaped fabric Flower Diffuser (rsp: £12/90ml) that changes colour as it absorbs the coloured-liquid, an elegant Reed Diffuser (rsp: £12/100ml), and the brand's first Lidded Candle in the UK (rsp: £6).

Available in four fragrances, - Water Iris & Night Orchid (blue), Luscious Fruit & Exotic Wood (pink), Vanilla Bean & White Truffle (yellow) and Cinnamon Chai & Smooth Cream (burnt orange) - the range joins the burgeoning candle and reeds segments, which have grown by 5.8% and 17% year on year respectively [Nielsen 52 w/e 12 December 2015]. "The needs of the air care shopper have evolved. They are not only looking for fragrances but also decorative solutions at affordable price points," said Jérôme Lemaire, RB UK marketing director.

"Air Wick is capitalising on this trend and aims to breathe a fresh lease of life into the main aisle with the launch of the Home Signature collection, a game-changing premium offering centred on style and delicate fragrance."

The collection will be sold through major retailers including Sainsbury's, Tesco, Asda, Morrisons and Wilko.