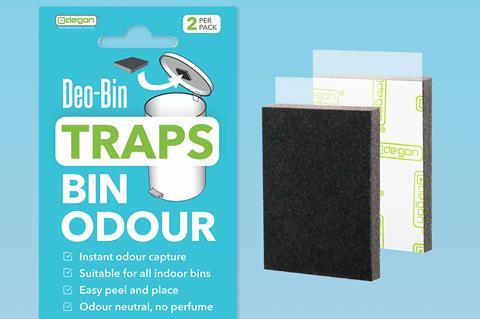 Shropshire SME Odegon Technologies looks set to launch its Deo-Bin homecare product in the US and Germany, following success in Australia and Taiwan.
Launched last spring, Deo-Bin is a perfume-free bin deodoriser that promises to absorb odour for up to three months. A small, inexpensive adhesive patch, it is made using a derivative of activated carbon technology patented in 1942 by the War Office for soldiers' chemsuits.
Odegon has since shipped 250,000 Deo-Bin SKUs to BioRevive, a distributor in Australia, while Taiwanese distributor Kao Link has so far ordered 110,000 packs of the patch. It had generated great interest overseas "because there's no chemicals; it's environmentally friendly. It's what people are clamouring for," said Steve Rawlings, who set up Odegon in 2011 with his son Tom.
Rawlings is now expecting another order from Kao Link for 100,000 Deo-Bin packs. He is also in talks with a representative from an undisclosed distributor in the US. "He loves the product," Rawlings said. "All he's said to us is, 'How many can you ship in a month?'. He's realised there's nothing on the American market like our product, and he wants in."
In Germany, "one of the big retail chains" was eyeing an order of around "20,000 or 30,000 units" Rawlings added. Overseas demand for Deo-Bin had "gone berserk".
In the UK, Deo-Bin has listings with The Range and Poundstretcher. It had also sold "easily a thousand" SKUs via Amazon, according to Rawlings. Many other fmcg retailers have trialled the deodoriser patch – which has an rsp of £1.99-£2.99 for a two-pack – but have not given it a permanent listing.
"I'm concerned the UK is losing its edge in trying new developments and new products," Rawlings said.