This article is part of our Digital Feature on Household.
With the household goods market hit by lower and lower deals in the discounters and supermarkets fighting back by championing premium brands as affordable luxuries, brands are taking to social media in a bid to convey their personalities and remind shoppers of their values and heritage.
One straightforward way of remaining competitive and relevant is to maintain an active presence on Facebook, according to content marketing agency Headstream which has compiled a ranking of how effective Britain's biggest household brands were in fostering support on Facebook between March and April.
Unlike many categories across grocery there's not a promotion or competition in sight in the top five posts of the most socially active household brands. "It's refreshing to see a different approach to social media within the household goods sector," says Headstream account manager Jessica Gow. "Instead the brands rely on the strength of their content to secure reach, increasing brand awareness and engagement."
With more than 2,000 'likes' the most popular Facebook post in the period came from Glade, which didn't feature a product and wasn't heavily focused on cleaning or scent.
Instead the brand wished fans a Happy Easter, offering them a positive message they could also share on their own Facebook pages. "This suggests that household goods brands may find success by building upon their personalities and sharing content that reflects their human side and that is not always product based," says Headstream's Gow.
That said, the remaining four brands to make up the top five most popular posts all feature an image of a product.
Top three posts:
Glade: Happy Easter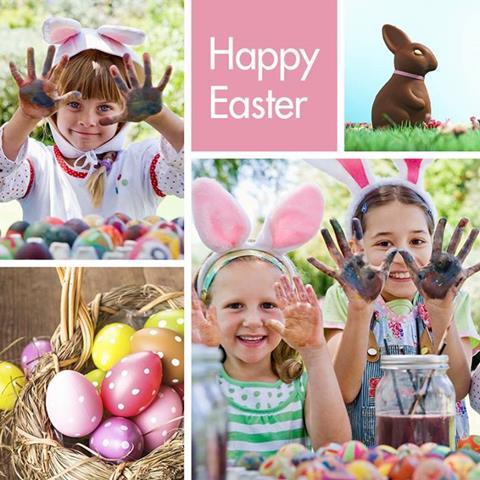 Likes: 2,182 Comments: 23 Shares: 50
Images of cute children sporting rabbit ears while painting, a chocolate bunny and Easter eggs might have nothing to do with air freshener but they helped Glade achieve the highest performing post in the household goods social ranking. Among the 23 comments were fans discussing the symbolism behind Easter eggs as well as others returning the 'happy Easter' sentiment.
The post was shared 50 times, suggesting fans wanted to share the image with their friends by posting it on their own pages. The subject of the image – children enjoying craft at Easter – is also a situation likely to be familiar with the brand's fans.
Dettol: Power & Pure Advance video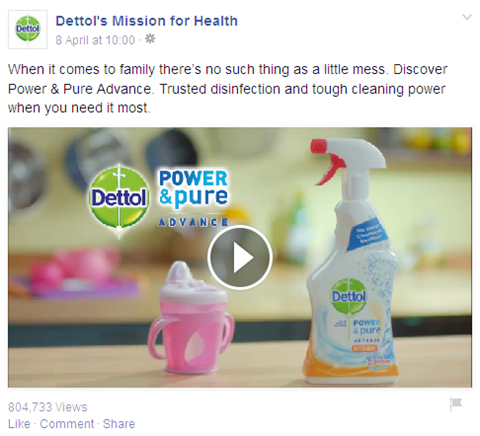 Likes: 1,411 Comments: 9 Shares: 88
Cute children also helped Dettol achieve a high number of shares, ranking the brand second in the overall table. A video of a baby creating a huge mess in the kitchen – swiftly cleared up with the help of Dettol – with the strapline 'when it comes to family there's no such thing as a little mess'.
Five of the nine posts Dettol published during the period were videos, which is likely to have influenced the reach they received on Facebook and helped them climb up the overall ranking.
Finish: dirty dishes video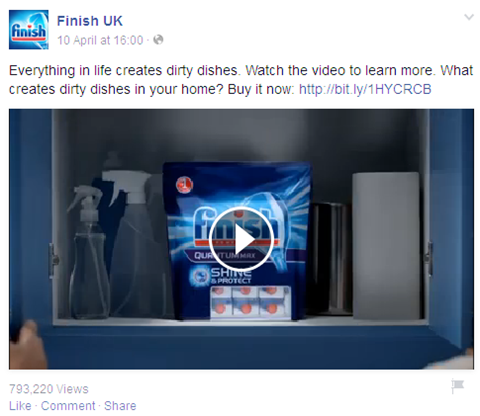 Likes: 515 Comments: 53 Shares: 61
It might have the smallest Facebook community out of the household brands included in the study and post the least frequently, but that didn't stop Finish ranking third with a video ad for dishwasher tablets.
Despite posting just two updates in the period monitored the brand won more than 500 likes for an unusual and stylised ad featuring dirty dishes suspended in mid-air. The ad highlights how all aspects of life result in dirty dishes – including a pair of false teeth inside a glass – and resulted in comments from consumers both raving about the product and complaining about it. Finish addressed both kinds of comments in this post, rewarding brand advocacy and following up negative remarks which allowed them to show off good quality customer service and reassure shoppers that it cares.
In partnership with

Social and content marketing agency Headstream partnered with The Grocer to compile this study. The Grocer provided Headstream with an original source list of the 11 socially active ice cream brands to be considered, and their social performance was monitored for the one month period of 17 February to 17March 2015 inclusive. Where no active UK page was found, we reverted to the global page with posts visible to the UK audience. Within this time frame we extracted each of the Facebook posts that were published on the relevant brand pages and analysed their engagements. For the purpose of this report, an engagement is considered to be a like, comment or share on Facebook. We awarded one point for a like, two for a comment, and three for a share – based on their value to the brand. These figures were then totalled to form the combined score shown in the ranking.