This article is part of our Ice Cream Report 2015.
For as long as we've had ice cream, we've been arguing over which flavour is best. Well, we've settled the debate once and for all. Chocolate ice cream topped with nuts and chocolate sauce and packed with chocolate chunks has emerged as the country's ultimate ice cream in a poll of more than 2,000 Brits [Harris Interactive].
Nearly a quarter of consumers (493) said chocolate would be their dream flavour when we asked them to describe their ultimate ice cream; 470 said it would contain chocolate chunks; 449 said it would be topped with nuts and 163 plumped for chocolate sauce. Tubs trumped cones and handhelds with 709 preferring this format.
The majority of respondents (250) said they would prefer their chocolate ice cream with other flavours, with mint, caramel and coffee all proving popular choices. Some went for rather more adventurous combinations, with chocolate & chilli, chocolate & brandy and chocolate & Coca-Cola all getting a mention. After chocolate, vanilla was the most popular suggestion with 370 mentions.
So what would Britain's ultimate ice cream look like?
We asked branding agency The Partners to come up with a new brand based on our findings. "Rather than create a brand defined by the product we've created a brand that has high shelf impact and plays off the emotional benefits of chocolate for chocolate lovers," says Greg Quinton, executive creative director at The Partners.
Enter, Chocodelic…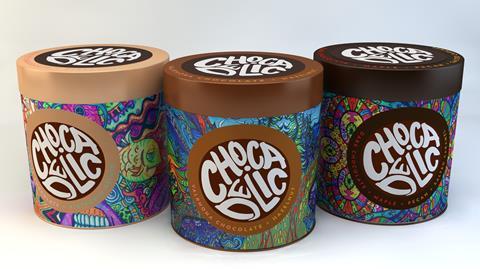 The Partners say: Hello, my name is Britain. I'm addicted to chocolate. Welcome to an endorphin rush of the world's finest chocolate, swirls of rich lush sauce and the crunch of the nuts that drives you nuts! It's a Chocadelic experience dude! So awesome it should be illegal. So chilled it's frozen. So indulgent it should only be sold on the top shelf! It's three flavours: chocolate, chocolate and… oh chocolate (with trippy cocoa chunks and a hit of nuts). Taking inspiration from the heady sixties psychedelic graphics, the packaging is updated to today's street art style that glows fluorescent under the black light. A range that Britain's chocolate addicts will definitely get high on.
In partnership with