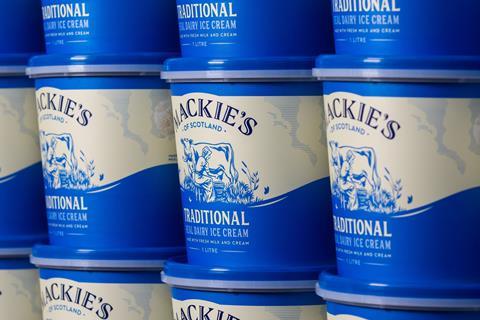 Ice cream and crisps maker Mackie's of Scotland has splashed out north of £4.5m on a sustainability-led revamp of its manufacturing facilities it says will slash its energy usage by 80% by the end of this year.
The brand is installing a new low-carbon refrigeration system claimed to be the first of its kind in Scotland, replacing its old refrigerant gases with ammonia, along with a new biomass system which will use heat and absorption chilling to cool the ammonia-based refrigeration plant.
It has also installed a double drum spiral freezer, which it said would chill ice cream quicker whilst improving its quality and texture.
The new freezer is touted as being able to reduce the temperature of ice cream at a rate of some 7,000 litres of ice cream per hour, from -4°C to -18°C.
This had "benefits for both the texture and consistency of the finished product", said Mackie's.
The brand said it was "now completing a full carbon audit" which was being undertaken in partnership with environmental specialists Small World consultancy.
Mackie's had "been climate positive since 2007 in that we generate over four times more renewable energy than we use, but we're keen to benchmark our progress with a full carbon audit and to identify other ways to improve our sustainability", said its sales director Stuart Common.
It was "a first for Scotland" and would make Mackie's "one of only a handful with this innovative combination of technology in Europe", he added.
Mackie's received a £2.05m grant from the Scottish Government's Low Carbon Infrastructure Transition Programme, with the project also being part funded by the 2014-2020 European Regional Development Fund programme, matching £2.5m invested by Mackie's itself.
"Our vision is to become the greenest company in Britain," said Common. "Other activities include tree planting – more than 10% of the 1,500-acre farm is planted with woodlands, in addition to an arboretum – all to improve carbon capture, biodiversity, and enjoyment of the farm."