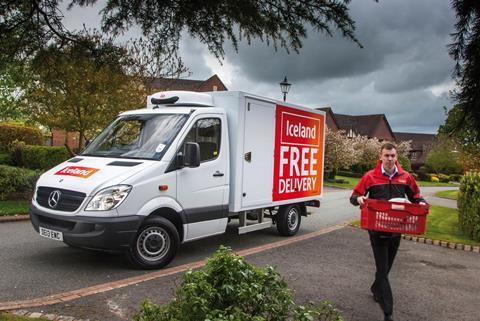 Iceland contacted 150,000 vulnerable shoppers immediately after PM Boris Johnson's announcement of the new lockdown to offer priority delivery, its MD has said.
The vulnerable customers were contacted within an hour of Johnson's announcement on Monday last week of a new lockdown across England, according to Richard Walker.
Iceland is now making 300,000 delivery slots available daily to vulnerable people from supplied government lists, Walker wrote on LinkedIn and Twitter.
"I'm proud to say that within an hour of Monday's Downing Street conference, we'd contacted almost 150,000 vulnerable customers within our database, offering priority access to delivery slots on an ongoing basis," he said. "The resilience and flexibility of our teams in making this kind of support a reality never ceases to amaze me.
"Each day, we're making delivery slots available to almost 300,000 vulnerable people on our government supplied lists. We continue to listen to our customers and our colleagues to understand how we can do more, and will continue to do all we can to help those most in need."
Iceland dramatically ramped up online deliveries last year, by 300% to about 40,000 to 50,000 a day, with capacity for a claimed 750,000 a week by September. Following the initial surge in online demand last March, the supermarket was notable for restoring delivery availability within weeks, ahead of rivals.
Iceland also expanded its delivery fleet just before Christmas, with the addition of 250 new vans with double the crate capacity of its existing ones.
The measures helped the business achieve a bumper festive trading period, with faster sales growth than any other bricks & mortar supermarket, according to Kantar, at 18.9% in the four weeks to 27 December.
The Grocer revealed in November that many vulnerable shoppers continued to struggle to secure supermarket delivery slots under latest lockdown restrictions.