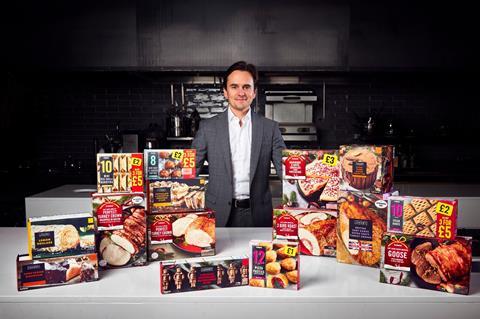 Iceland is claiming to be able to offer customers a 'plastic-free Christmas' for the second year, with 24 products in its festive range now wrapped in alternative packaging.
The number is up from 18 last year, with the addition of more party food, desserts and a No Bull vegan Wellington.
The Christmas range also includes a further 16 products with "significantly reduced plastic", a number that's doubled since last year. The packaging on the 16 products contains a claimed average 3% plastic by weight.
"Around Christmas, so many more tonnes of plastic go to landfill so we're very proud to play our part in helping to combat this and providing a solution for customers to reduce their plastic footprint, which they've told us they're very keen to do," said Iceland MD Richard Walker.
Iceland is set to publish its next annual plastic report in spring 2021, updating on its progress towards eliminating the material from own-label ranges by the end of 2023.
These are the 24 plastic-free Christmas products:
• No Meat No Bull Wellington 560g
• Iceland White Potatoes 2kg
• Iceland Luxury 6 Belgian Chocolate Nutcracker Bites 186g
• Iceland 12 Cheese & Pepperoni Pizza Pasties 264g
• Iceland Luxury 8 Pork and Bramley Apple Stuffing Parcels 312g
• White Potatoes 7.5kg
• Garden of Elveden Baby Salad Potatoes
• Iceland Easy Peelers Oranges 600g
• Iceland Mini Steak Bakes 300g
• Iceland Chocolate Orange Cheesecake 800g
• Iceland Raspberry & White Chocolate Cheesecake 800g
• Iceland Clementine Cheesecake 800g
• Iceland Luxury Toffee & Pecan Roulade 420g
• Iceland Luxury Lemon Roulade 420g
• Iceland Luxury Sticky Toffee Winter Forest Log 1kg
• Iceland Luxury Chocolate Orange Roulade 566g
• Iceland Luxury Honeycomb Mountain 590g
• Iceland Cheddar and Chilli 100g
• Iceland Oak Smoked Cheddar 100g
• Iceland Wensleydale and Cranberry 100g
• Barber's Farmhouse Cheesemakers Farmhouse Mature Cheddar 400g
• Barber's Farmhouse Cheesemakers Cheddar with Caramelised Onion 400g
• Baxters Caramelised Onion Chutney 290g
• Iceland Top Iced Christmas Cake 907g
The 16 reduced plastic lines:
• Iceland Perfect Turkey Crown 2.2kg
• Iceland 3 Bird Roast 2kg
• Iceland Luxury British Easy Carve Extra Tasty Turkey Crown 2kg
• Iceland Luxury 10 Cheese Souflettes 250g
• Mini Beef & Cheese Koftas 176g
• Iceland 10 Mini Veg Chilli Burritos 200g
• Iceland Boneless Turkey Breast Joint 2.4kg
• Iceland Boneless Perfect Turkey Crown wrapped in Bacon 2.32kg
• Iceland Boneless Extra Large Turkey Breast Joint 3kg
• Iceland Boneless Extra Large Perfect Turkey Crown 2.8kg
• Iceland Luxury Truffle Butter Turkey Crown 1.9kg
• Iceland Bacon Wrapped Goose with Cranberry & Apple Stuffing 900g
• Iceland Extremely Chocolaty Gateau 845g
• Iceland Luxury Chocolate and Amaretto Meringue Stack 500g
• Iceland Luxury Raspberry & Lemon Stack 520g
• Iceland Caramel Swirl Ice Cream 900ml