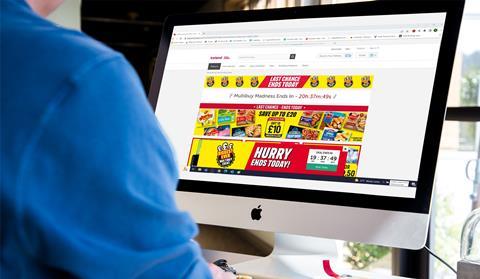 Iceland is running 'multibuy madness' deals online and in The Food Warehouse stores in its latest bid to draw catering customers and families doing a big weekly shop.
The retailer is currently offering savings of up to £5 each time customers make a triple purchase of the same product. There are also discounts when buying some products in twos, as part of a multibuy promotion covering a wide range of frozen, chilled and ambient lines.
The deals are running for one week at the end of each month, to coincide with payday for most shoppers. Deals were live from last week until yesterday on Iceland's website and continue until closing time today (5 July) in The Food Warehouse stores.
Unlike other recent promotions on Iceland's website, such as veg lines for 1p, there is no limit on the savings shoppers can make per basket.
Foodservice customers are considered important to The Food Warehouse, along with families doing a bigger shop than would be expected in an Iceland store. The retailer introduced a catering aisle in 2018, in a 27,000 sq ft Food Warehouse store in Cheltenham, the biggest at the time. As revealed by The Grocer, Iceland has also experimented with an online delivery service specifically for foodservice businesses, promising "bespoke arrangements".
The current multibuy deals in The Food Warehouse – which may differ from those on Iceland's website – include a discount for buying 72 cans of branded fizzy drinks at a time, in a 'three for £21' deal on multipacks of 24.
Other multibuy deals include frozen lines such as TGI pizzas in a 'three for £10' offer. Multibuy discounts are currently available on 226 lines in total in The Food Warehouse stores.
Iceland is also offering a £40 basket of preselected shopping on its website, intended to "feed the family" for a week, including main meals, lunches and snacks. The basket is being updated about every two weeks and currently comes with a £6.29 discount, while also qualifying for Iceland's free next-day delivery service.
The latest basket, which went live today, consists of 30 products including fruit & veg, meat and poultry, pizzas and treats such as ice cream, plus everyday essentials such as bread, milk, eggs and pasta.
An Iceland spokeswoman said the aim was to promote the free delivery service, available when spending £40 or more online, and to "provide guidance and inspiration to customers on how they can make their weekly spend go further" during the cost of living crisis.
It follows a series of online promotions from Iceland billed as helping shoppers navigate the cost of living crisis this year, including a four-day 1p veg offer in April and a similar 1p offer on everyday essentials such as bread in June. In both cases, shoppers could only claim the discount once per basket.