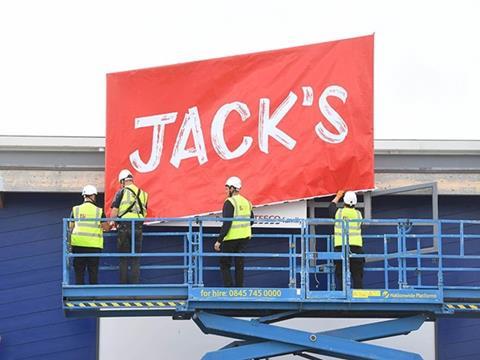 Tesco has told its senior management not to be distracted by the launch of its new discounter Jack's, with the message that the competitiveness of its core Tesco estate is far more important.
Speaking to The Grocer, chief operating officer Tony Hoggett admitted the launch of a maximum of 15 Jack's stores in the next six months would be seen as "water off a duck's back" by discounter rivals Aldi and Lidl.
The expectation among many analysts had been for a far bigger launch, with some predicting up to 100 stores could be unleashed under the new Jack's banner, in honour of Tesco's founder Jack Cohen.
However, Tesco CEO Dave Lewis told journalists at the launch of the first Jack's store in Chatteris, Cambridgeshire, that his plans were limited to 10 to 15 stores and that the move was a celebration of the centenary of the company, rather than a major strategic play.
As well as Tesco confirming the next store will be in Immingham, Lincolnshire, The Grocer understands former Metros in Birmingham, St Helens and Middlewich will be the next branches to open, with a lower-cost store model enabling them to be the "cheapest in town".
But asked by The Grocer about the scale of Tesco's ambition with Jack's, Hoggett said: "Absolutely, Aldi and Lidl will think it's water off a duck's back. But Chatteris customers will go 'this is brilliant'.
"Aldi and Lidl will only be concerned in the first instance with the first 10 to 15 that run. But we've never gone out and said 'this is our answer to the challenge of the discounters'.
"This is a celebration of the centenary of Tesco and we've decided, why don't we have a bash at a new channel?"
Hoggett said by far a bigger priority for Tesco was the increasing competitiveness of its core estate. It has recently stepped up the battle against Aldi and Lidl with the revamp of its own label proposition, including its Farms brands and a raft of other products.
"We've been really clear to all staff that being competitive on our core estate versus any competitor is the priority," he said. "Which is why we launched 'Exclusively at Tesco' brands.
"If you look at those brands, the replacement of the old Everyday Value, they are right on it. That's the core business, that's where we have 50 million transactions a week in the Tesco estate.
"There's a small but incredibly focused Jack's team making sure this is right, but absolutely not distracting from the Tesco team that understand our main priority is being competitive for customers across all Tesco stores.
"I run all of the channels across all stores and none of my staff are distracted by it apart from that small Jack's team. Everyone else is focused on Tesco."