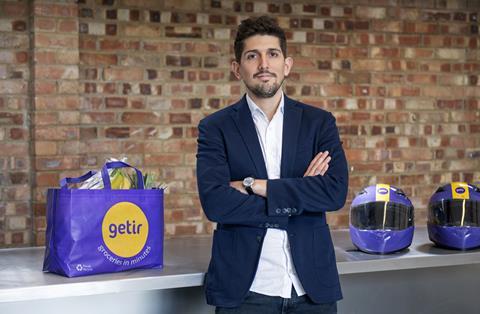 Ultrafast grocery player Getir has announced it will create 6,000 new jobs by the end of the year.
Since launching in the UK a year ago, the Turkish company now employs 4,000 people in permanent roles, all directly employed and paid at least the real living wage.
The new roles will include riders and dark store pickers and operators, with Getir planning to significantly increase its coverage over the next 12 months.
Globally, the company's valuation has risen to more than $7.7bn and it has pledged to invest £100m into the UK over this year.
Launching with just five dark stores in London, Getir is now operational in around 20 cities and towns including Manchester, Birmingham, Liverpool and Portsmouth. Its dark store locations number 115, the latest of which opened in Wolverhampton yesterday.
Getir was founded in 2015 by Nazim Salur, founder of BiTaksi, Turkey's leading taxi app; Serkan Borancili, founder of GittiGidiyor which was acquired by eBay in 2011; and Tuncay Tutek, a former PepsiCo and P&G executive in Europe and the Middle East.
Getir now operates in all 81 major cities in Turkey, but began its international expansion in January in London.
"There is no better city to launch international expansion from than London, due to its worldwide status and welcoming, cosmopolitan and diverse nature," said Turancan Salur, Getir's UK regional general manager.
The company's success here prompted it to expand to the Netherlands in May, Germany and France in June, Spain and Italy in September, Portugal in October and the US in November.
Locally, the company says its riders have travelled over seven million miles making deliveries using only electric mopeds and electric bikes.
"From only five stores when we opened a year ago, we now serve our customers from 115 stores which has created thousands of jobs – all from the area surrounding our stores," Salur said. "We deliver groceries within minutes of them being ordered and are able to support many local producers around every city and town that we operate in.
"We have beaten all expectations for 2021 and plan to go even further this year. If there is demand out there, we'll be ready to serve it," he added.