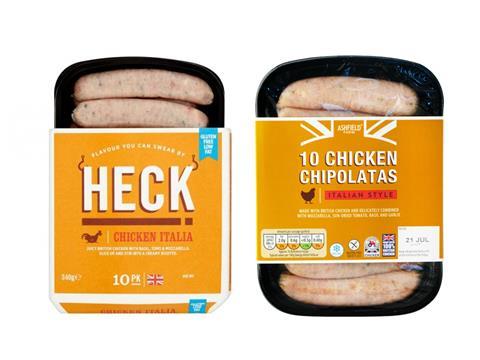 Supermarkets will never stop mimicking brands. Wherever you look you can see the influence of brands over own label (and own label over own label). Even Spar is getting in on the act, introducing a Graze knock-off.

But Aldi's decision to rebrand its chicken sausages is a big victory for Heck and will provide hope for others who want to challenge the discounter on its 'brand dupes'.

Whether it's Jo Malone candles, Fever-Tree tonic, The Collective yoghurt, Vita Coco drink or Pixi Glow Tonic beauty toner, Aldi has argued that its rip-offs look different. In many cases they certainly perform differently.

But even if it's only a small number of consumers who are duped, the fact is it is damaging to sales for these brands.

At the same time, it's questionable as to whether discounters still need the cues that brands offer. They have developed strong own label brands in their own right into which their chicken sausages, for example, can comfortably sit. When combined with their price advantage, the Specially Selected range can certainly act as a platform for disruption, democratisation or whatever you want to call it.

What's interesting about Aldi's climbdown, however, is that it's not caved in simply because of legal threats. It has deep enough pockets to resist small fry producers. And bigger ones too. Instead it appears to have been shamed by bad publicity.
In the early days of its assault on brands, with its award-winning 'Like Brands' campaign, it went after big corporates like Procter & Gamble and Diageo. And consumers didn't seem to mind. In fact they probably quite enjoyed it. Everyone loves a bargain and in some cases Aldi has even been able to back that up with quality superior to the brands it's knocking off.

But its increasingly important millennial audience seems to have taken a different view as Aldi has started going after small (mostly) British startups. And it's clearly starting to realise that it can't afford to alienate them or risk upsetting its carefully nurtured reputation with negative comments in the media and among key influencers on social media.

So another wholesale trial has failed to deliver for Sainsbury's. This time it's the tie-up with WH Smith. A similar trial with Euro Garages was also quietly scrapped in February last year, while plans in 2017 to acquire Nisa never got off the ground as it took a wait and see approach to the Tesco-Booker move, opening the door for the Co-op to make its move.

With its merger with Asda looking doomed, this failure to deliver in wholesale is in marked contrast not only with the success of Co-op but also Morrisons (with Amazon and McColl's) and Tesco (with Booker). All are enjoying strong sales growth from the consolidation and disruption in this category. And all are shortlisted for The Grocer of the Year partly as a result of their decision to move decisively and successfully into wholesale. It's an awkward contrast that new Sainsbury's chair Martin Scicluna will no doubt be reflecting on as he tries to figure out a new approach.