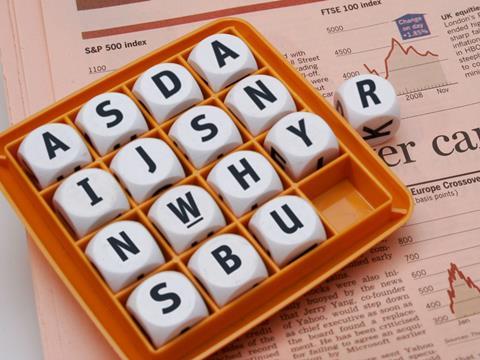 We've got extensive analysis of Sainsbury's-Asda this week, covering the mega-merger from every conceivable angle. Exclusive research for The Grocer shows a very positive response among consumers to the prospect of 10% cheaper prices on essentials. The City likes it too, though it's understandably cautious, given uncertainty around the competition process, as well as executional risk.

Even employees seem to be warming to it (after a nervy start). While there are bound to be some head office job losses, the lack of planned store closures (though not the same as store disposals), and the insistence on keeping the Asda HQ, has calmed nerves. Indeed, some buyers have expressed blatant excitement at the prospect of finally being "in the game" and able to give the discounters a run for their money. OK, so a 10% discount would still not quite enable Asda to match Aldi or Lidl, but it would be near enough, given the other benefits a full-service supermarket brings.

Only in the case of suppliers is the mood music sombre. Which is hardly surprising, as multinationals, with their "spectacular" returns, prepare for harmonisation of terms (and a damn good kicking) that will result in net synergies of £350m - but significantly more given the gross synergies are enough for Sainsbury's to promise 10% price cuts on everyday lines. And I don't suppose anyone fancies the prospect of a market in which two players enjoy 60% of the market (given the old adage that you should never allow one customer to account for more than 20% of your business).

On the other hand, Coupe didn't do a good enough job in explaining how those price cuts will be achieved. He's not looking for a blanket 10% price cut from suppliers, as some have assumed. And it would be commercial suicide to simply pulverise small (and often British) fresh produce suppliers. It's much more likely to invest synergies into those areas, as I advised the supermarkets to do many years ago, instead of subsidising alcohol - areas where the discounters have made hay. There's also a strong likelihood that Asda's British sourcing credentials would improve as a result of the merger. But instead, he's allowed the NFU, and other producer organisations, as well as MPs, to fret very publicly - one of two slipups, in an otherwise polished performance, on an exhausting day and in hurried circumstances.

Still there's plenty of time left for Coupe to atone. And what a prospect - if the deal goes through. In this week's issue, Warren Ackerman and Steve Parfett argue this is a defensive move by both Sainsbury's and Asda. If you will forgive me a cricketing analogy, I see it as a potentially Adam Gilchrist-type situation, where a team that's on the back foot can be transformed, as defence is turned into blistering attack. There's plenty more savings to be had, such as distribution costs, for example. And Bryan Roberts argues that Nectar may have a part to play.

But talking of delivery, it's Argos that could be the linchpin. It's already proved an astute buy from Coupe (he can blame Justin King for Netto), growing sales, while utilising white space for GM very effectively. The prospect of installing Argos outlets in Asda outlets could be even more compelling (it's a better fit demographically). But it's the prospect of combining Argos delivery with Walmart's formidable buying power that's most enticing. Argos claims that it has a better online delivery proposition than Amazon are overstated. But if it gets it right it could be. That's part of the appeal for Walmart. It might even tempt Walmart to buy it back.