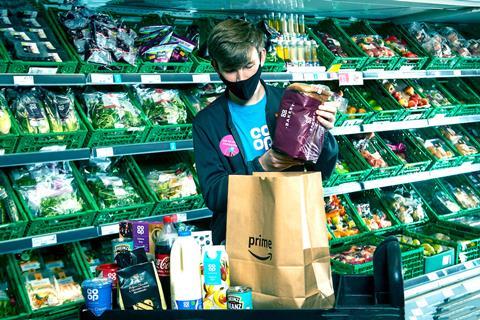 Co-op is fast emerging as an unlikely pioneer in online grocery. Its ambitions in this arena were this week cemented by a landmark partnership with Amazon, which will offer 10,000 of its SKUs for same-day delivery to Prime members.
Granted, this is nothing particularly pioneering in itself. Both Morrisons and Booths forged partnerships with Amazon well before Co-op got a look-in.
But the emphasis on speed is what sets Co-op apart from its rivals. Many Prime orders will arrive not just on same day, but within the space of two hours. And that's slow in comparison with Co-op's other services. Over 400 of its stores are partnered with Deliveroo, which can drop off groceries in as little as 15 minutes. By the end of this year, there will be 500 Starship robots making speedy deliveries to Co-op customers in seven towns and cities. It's certainly come a long way since pre-Covid, when Co-op was only tentatively dipping its toe into online.
Speed is clearly a key part of Co-op's strategy to hit £200m in online sales by the end of the year. CEO Steve Murrells particularly highlighted the potential for growth in "rapid kerb to kitchen grocery delivery services".
It serves to illustrate how the concept of convenience is evolving. Co-op isn't the only one to make great strides in online – during the first national lockdown, there were 600,000 deliveries from c-stores across the country. A growing number of independent retailers are offering rapid drop-offs through the likes of Deliveroo, Jisp and Snappy Shopper, boosting basket sizes and winning new custom.
This success came through in the Convenience Awards this week. Our Customer Delivery Store of the Year, MJ's Premier Store in Lancashire, has already hit the £1m milestone with its service. That demand isn't going anywhere: seven in 10 consumers plan to use c-store delivery services more in future, according to Lumina Intelligence research.
It goes to show convenience is no longer about just popping to the shop. It's about being there for customers wherever and however they want you: the speedier the better.