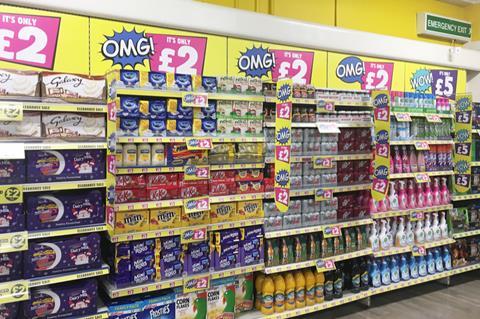 You know what to expect when you go to a pound shop. Except that's no longer the case. Not at Poundland anyway. It hasn't been a true pound shop since 2017, when it added items costing £2 and £5 to the traditional round pound. With the addition of the Pep & Co 'concessions' in store new prices were added. And this year the variety discounter has rolled out more price points across Poundland's 850-store estate, including permanent sub-£1 lines and products that run into double figures (£10 to be precise).
Looks like Poundland is putting some variety in its pricing.
It's not the only change under Barry Williams. As part of a 'transformation' plan, the brilliant trader (now chief stamp licker) has been adding more and more groceries to the lineup. In the new frozen and chilled range, for example, there are three ready meals. The price: £1.50. It's part of a move to turn Poundland from a variety discounter into a convenience store. Or rather, an 850-strong convenience store chain. Williams wants a piece of the regular so-called 'Big Basket' shops, which is making weekly shops more and more of an anomaly.
Such a move into multi-price discounting is not without its risks, however. One of the reasons cited for the demise of rival Poundworld was its decision to introduce a variety of new price points, which consumers found confusing. Conscious of this, Poundland has even changed its shelf-edge tickets from green to white for extra clarity – so shoppers are less likely to be surprised when they reach the till.
But it raises the question as to whether Poundland needs to change its name. And it's been pondering this. Staff at several stores we visited have been told it's planning to become 'Poundland & More' – though a Poundland spokesman strenuously denied the claims.
Poundland first trademarked the name in 2016 and used it on a handful of former Family Bargains branches, acquired as part of the 99 Stores chain, but it has yet to be used in a wider rollout. The potential for confusion is real. Nothing would signal a change in its pricing model more than the name above the door. But it's a bit clunky.