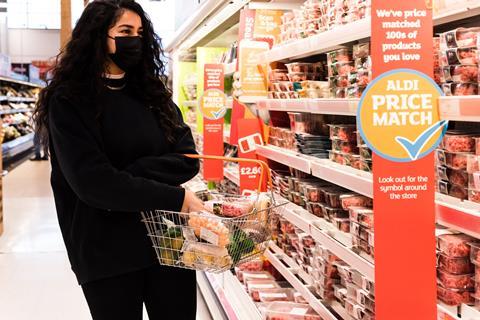 Why is it retailers 'match' their prices to Aldi – as opposed to Lidl? First Tesco (since 2020) then Sainsbury's (2021). It must have been flattering, if a little annoying, for Aldi to be singled out, while Lidl may well have wondered why it was being excluded.
But it turns out Tesco was targeting Lidl too, if a new lawsuit is to be believed. Lidl claims another of Tesco's price initiatives – the hugely successful Clubcard Prices that helped Tesco bring home a record eight trophies at The Grocer Gold Awards this week – subliminally undermines Lidl through its use of the same blue background and yellow sun circle that features in its logo.
To be honest, it's so subliminal I had never even noticed it before the story came out, but clearly I'm not being cynical enough and IP lawyers think it has a good case. When you consider that in the third of Tesco's trio of price initiatives, Low Everyday Prices is targeting the variety discounters, maybe the full masterplan suddenly becomes clear. In thought, word and deed, Tesco is passing itself off as a discounter. Or not.
Maybe Tesco should just launch a Lidl Price Check instead. Name-checking Aldi rather than Lidl makes sense, because it's bigger, but also because it's regarded as the price leader. Not according to this week's Grocer 'Super 33', though. In our first-ever survey comparing Aldi prices against Lidl, Lidl came out cheaper by… 24p.
I won't tell you how Asda, Morrisons, Sainsbury's, Tesco and Waitrose compare in our survey. But suffice to say, while the price gap between the big four is closer than in years, the fully fledged supermarkets aren't matching up on price as much as they would hope/like. With the cost of living crisis only worsening, it's little surprise the IGD predicts the discounters will be the fastest-growing channel. No wonder Sainsbury's is doubling down on Sainsbury's Quality, Aldi Price Match (SQAPM).
As to Tesco – following its record haul at The Grocer Gold Awards this week – it may not do quite so well next year, offering hope to rivals everywhere. Every Lidl Helps and all that.