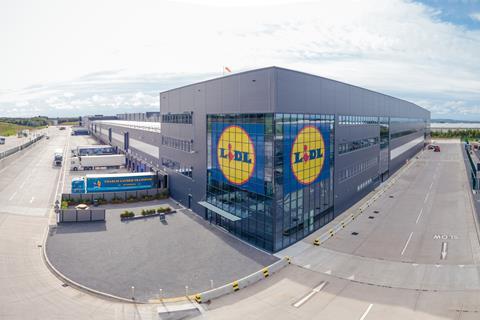 Lidl has opened its largest UK distribution centre to date, a year after construction began on the 600,000 sq ft facility in Scotland's Eurocentral industrial estate.

Around 600 employees have already relocated from Lidl's Livingston DC to the new £70m warehouse in Motherwell, North Lanarkshire. A further 250 jobs can be created at the new site, Lidl said.

The warehouse will supply Lidl's 99 stores across Scotland and provide the extra capacity needed for the 13 more in the pipeline over the next three years.

"We're very excited to be celebrating the opening of our new Eurocentral distribution centre, which represents a pivotal moment in our ambitious growth plans across Scotland," said Lidl GB regional director for Scotland, Ross Millar.

"The warehouse underlines our commitment to creating more jobs for Scotland and I'd like to extend my thanks to both store and warehouse colleagues, who've worked so hard to get us to where we are today."

Lidl plans to open a further four UK warehouses by 2025, in Bolton, Peterborough, Luton and Leeds.