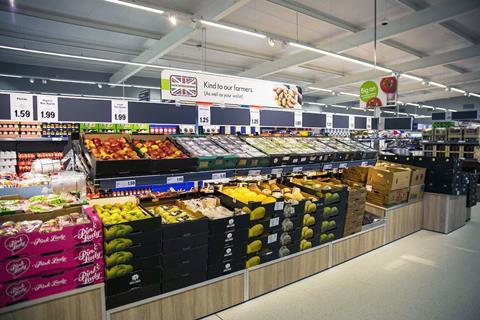 Lidl is to significantly increase the amount of UK-sourced fresh meat and produce it sells, as part of a £15bn investment in British food, farming and production.

The discounter this week said it planned to invest the sum during the next five years, with the cash being ploughed into its supply chains - from farming, processing and production, through to promotions and marketing.

Citing the success of its strategic partnership with Müller, the retailer said it would also offer longer-term contracts to suppliers to give them "more certainty and allow them to invest for the future".

As a result of this support, it would be able to increase its sales of British sourced fresh meat, poultry and fresh produce by more than 10% across the next 12 months, Lidl claimed.

This would also be achieved by devoting more shelf space to UK-sourced fresh food, including the introduction of more seasonal fresh produce, and a greater focus on the promotion of these products, both in-store and in Lidl's advertising, said a spokeswoman.

"As our business continues to grow, it's vital our suppliers remain at the heart of our growth plans," said Lidl GB ­commercial officer Ryan McDonnell. "Our investments and commitments are key to ensuring they can invest and expand with us."

Longer-term partnerships with farmers were "all the more important during economic uncertainty", he added. "And with 2019 marking our 25th anniversary, we are more committed than ever to supporting our suppliers here in Britain."

The announcement follows the unveiling of a series of ambitious store expansion plans during the past six months. These include a pledge to open 10 new stores in Manchester over the next three years and 40 new stores in London.