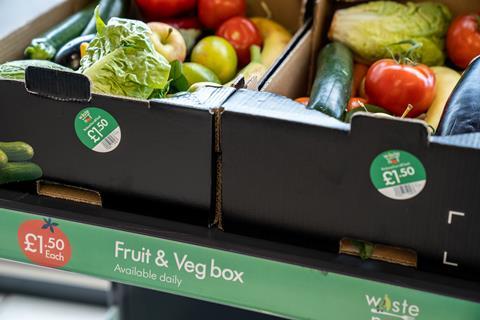 Lidl has extended a trial initiative selling slightly damaged fruit & veg at discounted prices to all its stores across the UK.

The 'Too Good to Waste' fruit & veg remains fresh and "perfectly good to eat" despite being in less than perfect condition, perhaps with minor bruising, according to Lidl.

They are sold mixed in 5kg boxes for £1.50, every day from opening until midday, after which any left over are donated to local charities to redistribute.

The food waste reduction initiative was launched in 122 stores in August last year, and has been extended across Lidl's estate in England, Scotland and Wales from today.

At the trial's launch, Lidl claimed it as an industry first, differing from so-called 'wonky veg' offers, which refer to produce deemed the wrong size or shape, rather than slightly damaged.

The discounter already offers fruit & veg that could be classified as 'wonky', by exercising flexibility in the specification requirements of standard product lines, according to a spokesman.
In December last year, Morrisons launched an initiative with exactly the same name, Too Good to Waste, offering boxes of fruit & veg described by the supermarket as "at the end of their shelf life, but perfectly good to eat".

Lidl's Too Good To Waste initiative has already saved 250 tonnes of food waste during the trial, in which 50,000 boxes have been sold, the discounter's spokesman said.

Lidl UK CEO Christian Härtnagel added: "The positive feedback that we have received off the back of our trial has been incredible, from our colleagues who are showing so much passion for them, to our customers who were getting in touch from the get-go asking where they could get one.

"We're therefore really excited to be rolling the boxes out to all of our stores nationwide, and we're really pleased to see that it's also starting to be adopted by other supermarkets.

"The really brilliant thing about this initiative is that not only is it helping to tackle the highly important challenge of food waste, it's also helping our customers make even more savings. Additionally, it's a great example of how we, as discounter, can utilise our lean and efficient business model to fulfil our mission to make good, healthy food more affordable and accessible, whilst acting sustainably."