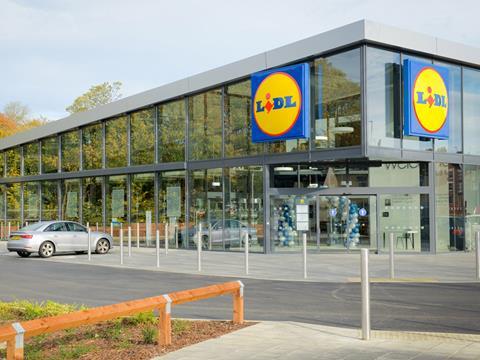 Strong sales of seasonal veg helped boost Lidl UK's Christmas trading by 10% in December.

The discounter said sales of its festive 'Pick of the Week' products, which included carrots, parsnips, Brussels sprouts and potatoes, increased by 60%.

Lidl said its Christmas, ad which featured one of its turkey farms, helped boost sales of the bird by 40%.

"This followed our boldest advertising campaign to date, which truly shone a light on the quality of our products by inviting real customers to visit our suppliers and see the farms for themselves," said new Lidl UK CEO Christian Härtnagel.

"As a result, research conducted by Kantar Millward Brown revealed that Lidl topped the list of adverts most likely to persuade people to purchase, which is a fantastic achievement and ultimately the key objective of any retailer during such a key trading period, demonstrating a clear translation to sales."

Härtnagel described December as the retailer's "most successful festive trading period ever".

"It's clear that customers are continuing to be enticed by our resolute commitment to provide them with the best-quality products at the lowest prices, particularly during the festive period."

Lidl also hailed the success of its Social Price Drop campaign, in which it promised to lower the price of four key seasonal lines based on the amount of Twitter engagement they got. It resulted in the price of its MSC-certified lobster dropping to £2.99 and resulted in 40,000 sales in just one day.

"Our colleagues across the business continue to do a phenomenal job as we experience unparalleled demand, and we were proud to have once again become the first supermarket to announce an increase in salaries, matching the Living Wage Foundation's recommended rate," added Härtnagel.

"Going into 2017 we are absolutely focused on saving our customers more money than ever before, which we will be demonstrating through our brand new 'Big on Quality, Lidl on Price' campaign. We also remain fully committed to our ongoing expansion plans, which will see the opening of up to 50 new stores next year, along with two new regional distribution centres, creating thousands of new jobs up and down the country."

Earlier this week, rival discounter Aldi reported a 15% sales increase for December, driven by increased demand for its expanded selection of premium products. Yesterday, Morrisons said its like-for-like sales were up 2.9% for the nine weeks to 1 January and today Sainsbury's revealed that its like-for-like sales were up just 0,1% for the 15 weeks to 7 January.