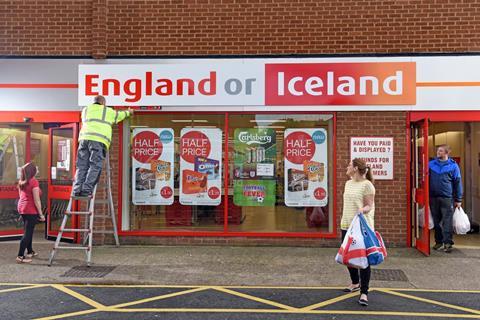 Just three months ago, retailer Iceland was capitalising on its nordic country namesake's successful Euro 2016 campaign.
But relations between the supermarket and the country are decidedly frostier than they appear, it has emerged, as the Icelandic government is considering a legal bid to stop the retailer using its name as a trademark.
The move stems from long-running tensions that have seen the Deeside-based supermarket block attempts from Icelandic producers to use their country's name in a trademark.
The supermarket's latest attempt to block Iceland's trade promotion organisation – Íslandsstofa – from trademarking the term 'Inspired by Iceland' is believed to have been the final straw.
The Icelandic government confirmed that it, along with a "group of Icelandic parties", were now keen to fight the supermarket's EU trademark.
"Based on this registration, Iceland Foods has pursued and won multiple cases against Icelandic companies seeking to describe themselves using this word, even in cases when the products and services do not compete," said a spokeswoman.
"It seems reasonable that a company or product made in Iceland or by an Icelandic company would be able to describe itself using the name of the country. Any decision about proceeding with this claim will only be made after full consideration of the interests of Icelandic companies and our people."
But the retailer appeared defiant against the potential claim. "Iceland Foods has traded under the Iceland name in the UK since 1970, and is today one of the UK's most recognised brands. We have also traded as Iceland for many years in other EU countries, and in non-EU countries including Iceland itself," said a spokesman.
And trademark attorney Lee Curtis was doubtful that the country could realistically remove the trademark from the supermarket.
"Iceland Foods successfully fought off oppositions to their various UK trademark registrations for Iceland for the vast majority of the goods and services that they sell under the brand, and indeed it appears that oppositions to their EU trademark registrations were simply not pursued in the end," said Curtis, an attorney at IP law firm HGF. "Although there is nothing stopping Íslandsstofa and other Icelandic organisations and firms attempting to cancel Iceland Foods EU trademark rights, I have my doubts they would succeed based on my perception of the history of this dispute."