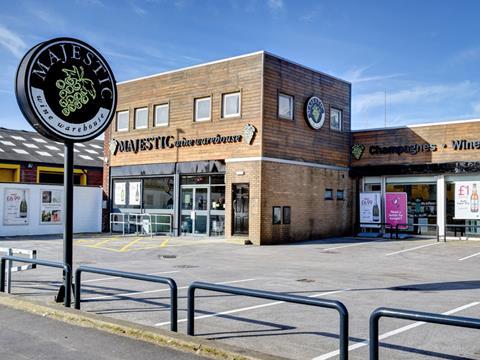 Majestic is switching to a buying model similar to that of its sister business Naked Wines, which will see the majority of branded wines delisted, according to industry sources. In their place it is understood Majestic plans to create a swathe of its own brands to differentiate it further from rivals in the market.
It would be a "massive rationalisation", one source told The Grocer. "They're sick of building other people's brands then seeing them go into the supermarkets. They're convinced they can make it work under the Naked model."
Under Naked's model, many wines are bought in bulk from abroad and shipped to its facilities where they are bottled and sold. "They're going to create brands they own completely that won't be available in the supermarket, so there'll be no beating them on price."
Some suppliers have even been told to offer Majestic a better margin than the supermarkets to justify their presence in its stores or face delisting, sources claim. However, Majestic's trading director Richard Weaver stressed: "We said that we need to offer our customers competetive pricing and range. We don't negotiate our costs or terms compared to anyone else."
The move was "not a cull, ideological or otherwise", he said, but a shift away from "brands which do not excite our customer base or add value to our business.
"We've stated before we are looking to maximise our exclusive range and build on own-label, which is working well for us. This is entirely dependent on finding the right wines which fit that specialist brief - wines that you simply cannot find elsewhere."
The move was "part of a long-term strategy which we feel will create the best proposition for our customers", added its retail & managing director Joshua Lincoln.
'Incredibly bold'
"Every wine has to ­justify its place in our range, whether that be own-label, exclusive wines or brands. Our customers have the final say through Buy it Again ratings and, ultimately, with their purchases. If it's considered bold to listen to our customers and give them what they want, then yes, we're being incredibly bold."
The news comes just weeks after Lincoln told The Grocer it was adopting a new stance on buying based on consumer feedback rather than simply the whims of the buyers, under which "everything has the potential to be huge and anything has the potential to be delisted".
Last month Majestic announced it planned to plough up to £12m into attracting new customers to the business, primarily through Naked but with a portion of investment set aside for the retail business.
While this meant earnings for the next financial year would come in at roughly £3m (some £2m lower than initially forecast), Majestic said "annual generation of future value" would rise from £48m to over £80m per year.