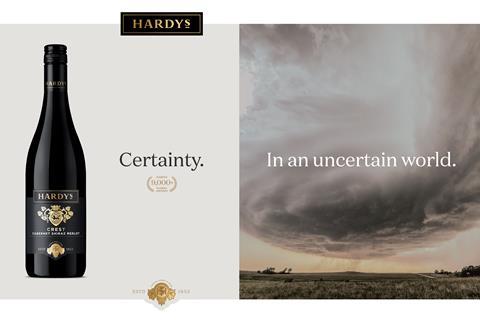 Accolade Wines is relaunching its Hardys wine brand with a £5m investment in a new strategy and marketing campaign.
The new campaign, titled 'Certainty in an Uncertain World', will look to distinguish the brand as a trusted wine focused on "quality and heritage".
The strategy includes a money-back guarantee for customers in the final quarter of this year if they are unsatisfied with the wine.
The guarantee was a "bold statement" said Ade McKeon, Accolade's European MD, though he conceded there was no research to suggest it would drive sales.
"We're backing ourselves and putting confidence in our brands," said McKeon. "No one has done this with a brand of this scale before."
Last year, Accolade grew turnover for the first time since 2014 following difficulties in responding to a devalued pound and falling sales. It launched a "major strategic review" last February to streamline its business by merging its UK and European operations.