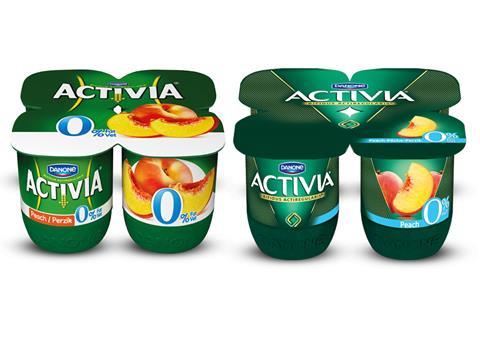 Danone has embarked on its biggest ever campaign with a multi million-pound global rebrand and repositioning of its Activia brand in a bid to make it more relevant to today's shoppers.

The French dairy giant said the revamp would create a more premium "aspirational lifestyle brand" and help transform Activia's fortunes.

It includes redesigned packaging described as "sleek, modern and premium" across the range and the replacement of its 'Feed Your Inner Smile' messaging with new tagline 'Live InSync'.

The new packaging started rolling out in the UK last week.

The rebrand is being supported by a multichannel marketing push that will demonstrate how women can "reach their everyday potential" by being 'InSync' with their bodies, starring ambassadors including singer Katherine Jenkins and Olympic gold medal-winning cyclist Victoria Pendleton. A TV ad is due to launch on 17 October.

UK value sales for Activia fell 14.4% last year, from £191.4m to £163.8m, as health-focused single-serve yoghurts came under scrutiny over sugar content and shoppers switched to natural yoghurts and big pots [IRI 52 w/e 30 January].

"Our goal is to globally position Activia as an inspirational lifestyle brand with a mission to help women unlock their vast potential," said Danone marketing director Art D'Elia. "We are incredibly passionate about helping women achieve their best, which makes the re-brand and launch of the 'Live InSync' campaign a very exciting time for us."

Danone added the new packaging was "simple and clear" with images emphasising its fruit content "to aid shopper selection in store". However, the packs have been met with a mixed response from consumers, with some complaining on social media it was harder to differentiate between flavours.