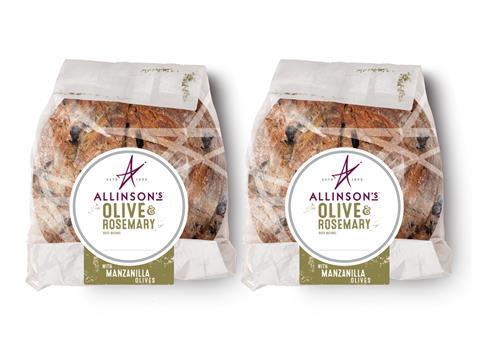 Allied Bakeries owner ABF. It has announced plans for three new premium loaves and new paper packaging for the range to boost its craft appeal.
The brand's wrapped loaves have lost 34.7% of their value (£2.7m) since new variants in a new 650g format hit shelves in early January as part of Allied's million-pound revamp of its bagged bread portfolio [IRI 44 w/e 11 November 2017].
Volume sales plunged by 44% in the same period, compared with a 3% dip in volumes across the wider pre-packed bread category.
However, Allied insisted the sales slump was nothing to be alarmed about, with head of marketing Matthew Cullum claiming the revamped range, an "entirely new and different proposition", had met with a "positive response… as well as affirmation of Allinson's taste credentials and strong levels of loyalty".
As well as introducing smaller loaves at higher price points, the old 800g loaves had been removed from distribution, and it had taken time to rebuild the brand, Cullum explained. Volumes rose more than 200% in early November compared with the first weeks of sale in January [Nielsen w/e 4 November vs w/e 14 January], he added.
The new loaves for 2018 – Honey & Wholemeal, Olive & Rosemary and 10 Seeds & Grains – are even more premium. Cut and dressed by hand, the variants will be available in an unsliced 410g cob (rsp: £1.89).
The entire Allinson's range will also be wrapped in paper packaging for a more 'artisanal' look and feel. Backed by a new ad campaign and in-store communication, this would be the brand's "next phase of evolution", Cullum added.
He also promised significant plans for Kingsmill in 2018.