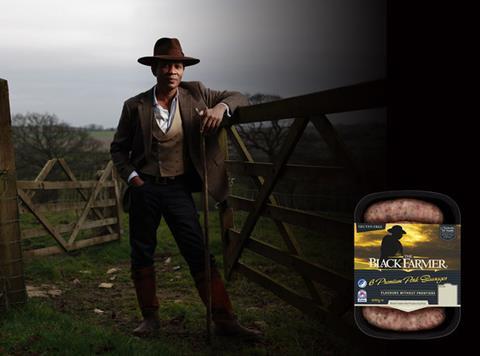 Sausage brand The Black Farmer is to start filming for its first ever TV ad campaign next month.
The ad is due to air in the new year and will be shot by Hollywood film director Tony Kaye, who has filmed TV commercials for Dunlop, Tag Heuer, and Volvo, music videos for the likes of the Red Hot Chili Peppers, and critically acclaimed thriller American History X.
Backed by a poster campaign and a liveried 80-strong trailer fleet, the advertisement will also be supported by a "hard-hitting" round of in-store promotions, said Black Farmer founder Wilfred Emmanuel-Jones, who added it would "drive the message that we're special and encourage widespread trial".
The commercial will be filmed at The Black Farmer's Devon farm, said Emmanuel-Jones, and will focus on the "soul and passion" which goes into making the sausages.
"To have Tony agree to shoot our first television campaign is nothing short of epic," he added. "His style and vision are absolutely spot-on for communicating The Black Farmer brand in a totally innovative way."
Emmanuel-Jones claimed the Black Farmer range, which is stocked by Asda, Sainsbury's, Morrisons, Waitrose and Ocado, had established itself as "the UK's number one super premium sausage brand", and had done so "by offering consistently great quality products with a flavour profile that challenges the status quo".
With a "fiercely loyal base of consumer devotees" which he claimed was the envy of the industry, he added that the time was right "to accelerate our communication to include an above the line awareness campaign to get more people trying the brand".