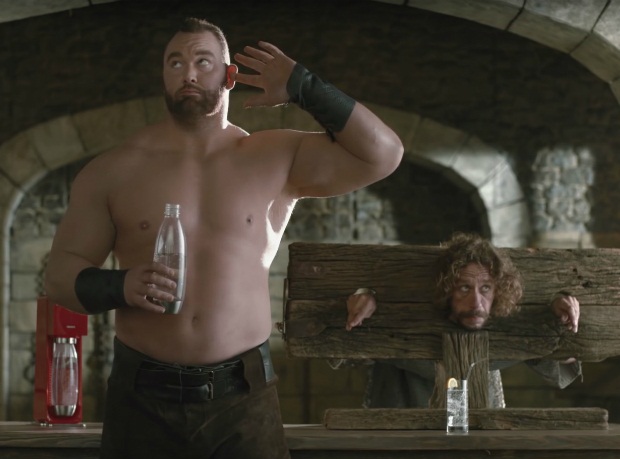 SodaStream has been censured by the advertising watchdog for a commercial containing profanity.
The Advertising Standards Authority upheld three complaints that the online video, Shame or Glory, was offensive, distressing and irresponsibly targeted.
The Game of Thrones pastiche saw a man buy two packs of sparkling water. He was then followed by a woman in medieval costume, ringing a bell and crying "Shame!"
After facing constant looks of condemnation from other people, the man was addressed by the muscular Mr Mountain, who asked: "Why are you stupid? Why are you carrying shameful polluting plastic bottles?"
The three-minute advert finished with the Mountain character explaining: "With SodaStream you can make sparkling water at home at the touch of a button, without carrying heavy plastic bottles and pissing off Mother Earth. Can you hear the dolphins cry? SodaStream. F**k plastic bottles."
SodaStream said the swearing was typical of the language used in Game of Thrones – albeit milder. Within the overall context of the "lighthearted" ad, the brand did not believe the single use of "f**k" was likely to cause serious or widespread offence, and it was unlikely to cause fear or distress.
The ASA ruled the commercial was not threatening, but its appearance on Facebook was not targeted at adults only and therefore could have been seen by children, for whom it was unsuitable. The watchdog ruled SodaStream had not targeted the ad responsibly on the social media platform.
The brand was also criticised for its website's unsubstantiated claim that 'one SodaStream BPA-free PET carbonating bottle saves the average household 2,190 bottles from being landfilled or ending up in our parks and beaches over its three-year lifespan'.
However, the ASA did not uphold complaints that the video and site exaggerated the environmental benefits of SodaStream's product and misleadingly implied that the sparkling water produced by the brand was equivalent to bottled natural sparkling water.
The latest controversy for SodaStream comes after its ambassador Scarlett Johansson was criticised in 2014 for her support of the Israeli drinks business, which has a factory in the Jewish settlement of Maale Adumim in the occupied West Bank. The Hollywood A-lister ended her eight-year association with Oxfam over "a fundamental difference of opinion in regards to the boycott, divestment and sanctions movement", the charity reported.