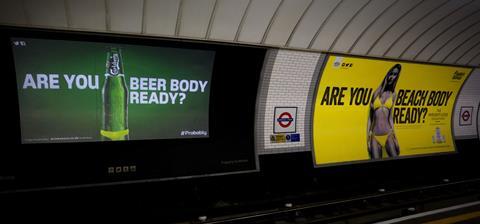 Before last week I and many others were blissfully ignorant of the very existence of Protein World. Then came the fitness and sports nutrition brand's now infamous ad.
Looming over Tube passengers it asked, nay yelled, in neon yellow if they were 'Beach Body Ready'. And for those foolish enough to begin making a mental list of beach towels, buckets, and bathing shorts, there was a bikini clad Renee Somerfield to make things clearer. What they really wanted to know was, are you thin enough to bare all on the beach this summer?
Outrage followed. Ads were scrawled with everything from witticisms, to four letter exclamations. Twitter was awash with claims the campaign objectified and degraded women, and opinion pieces alleging it added to the negative body image that prevails among young women appeared across the mainstream media.
The vast majority of these assessments I agreed with. It was lazy, backward-thinking marketing that tapped into well-documented female insecurities to push protein powder.
And yet when I heard the Advertising Standards Authority had banned the ad in its current form I felt even more uncomfortable.
Following 216 complaints, and a petition with more than 40,000 signatures calling for its removal the ASA confirmed the ad would not be able to reappear in "its current form" following concerns "about a range of health and weight loss claims."
"The complaints generally found that the ad is offensive, irresponsible and harmful because it promotes an unhealthy body image," a spokesperson added.
Yet I simply fail to see how censorship is the correct response. This wasn't a cut and dry case of an advert plugging false or unproven claims.
In fact there wasn't even universal derogation of the ad with many coming out on social media to support its message. Isn't banning the ad tantamount to silencing them too?
It's the nature of free expression that people will say things we disagree with. But that should provoke healthy, lively debate on the issues, not a regulatory gag on the source.
One thing the piece proved is that, even in toxic situations like the Protein World episode, the right marketer with the right message can capitalise and gain an amazing amount of column inches, as Carlsberg did with their "Beer Body" posters, which ran directly alongside the Beach Body ads causing the uproar.
Poking fun at the situation with a more inclusive message, Carlsberg's piggy-backing was shameless but perfectly timed and executed.
For very little expenditure, Carlsberg recieved not only widespread press coverage, but the kind of word-of-mouth buzz that marketing teams kill for. Coming after the beer-dispensing billboard, Carlsberg has its finger on the pulse in London, and it's reaping huge advertising rewards.
The only other people laughing in this whole situation are, ironically, Protein World. The brand says sales have tripled since the whole saga began.