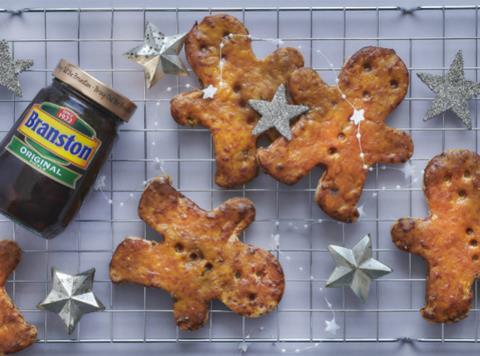 Branston Pickle has unveiled a brace of baked Christmas treats, produced in partnership with east London baker Lily Vanilli.
Picklebread Man (£2.50) features cheddar, Original Pickle and a Smooth Pickle glaze. Christmas Pudding includes toasted breadcrumbs, cheddar, Original Pickle and a mozzarella centre (£30).
The two festive products helped to illustrate "Branston's versatility beyond the traditional cheeseboard and highlight how it could feature on every Christmas table and in day-to-day recipes" the brand claimed.
Both will be available via Lily Vanilli's Columbia Road store and website until 31 December – alongside the cheese & pickle mince pie that made its debut last year.
Made with cheddar, new potato, thyme and Original Pickle, the mince pie "went down a treat" in 2017, said Nisha George, senior brand manager at Branston. "So this year we wanted to push the fun and festive twist even further."
Lily Vanilli owner Lily Jones said she had been "overwhelmed by demand for the Branston mince pies last year. I love experimenting with new flavours, and working with Branston Pickle on a cheesy Christmas treat for a second year running seemed like the perfect partnership."