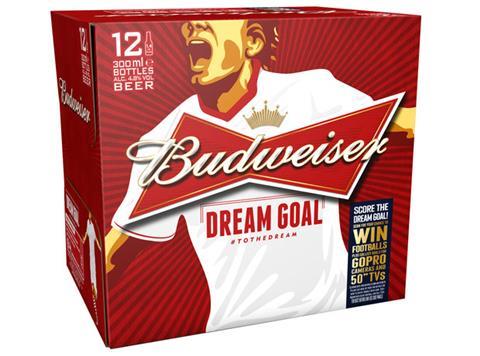 Budweiser has launched a hunt for the best goals scored by amateur footballers.
The Dream Goal competition challenges players to submit videos for a chance to star in the beer brand's spring TV campaign, in association with Sky Sports.
Dream Goal will be supported with limited-edition packaging across 4x568ml, 12x300ml, 6x300ml and 18x440ml packs of Bud, with two new easy-carry packs – 12x300ml and 12x400ml – launched specially for the initiative from this week.
A 'scan to win' mechanic on packs will allow consumers to enter a competition via the Budweiser app for the chance to win prizes including footballs, GoPro cameras and 50-inch TVs.
The campaign will also be supported by in-store activity through the slogan 'grab some Buds for the game'. As well as Sky, Budweiser is working with media platforms The LAD Bible, The SPORT Bible, Buzzfeed and Grass Root Goals to push the competition.
"We want to capture the magic of Sunday league football, and elevate amateur star players to an almost professional status," said Budweiser senior brand manager Andre Finamore Amaral. "Every football fan dreams of seeing their goal on TV, and we are all thrilled to be making this dream a reality and continuing our longstanding support of British football."
Jason Hughes, head of creative solution at Sky described the campaign as "a fantastic opportunity for two brands to bring more joy and excitement of football to all fans who live the dream!"
Of the top five lager brands – which together account for 55.7% of the category by value – Budweiser was the star performer last year and grew its sales by 11.4%, reaching £297.5m [Nielsen 52 w/e 11 October 2014].