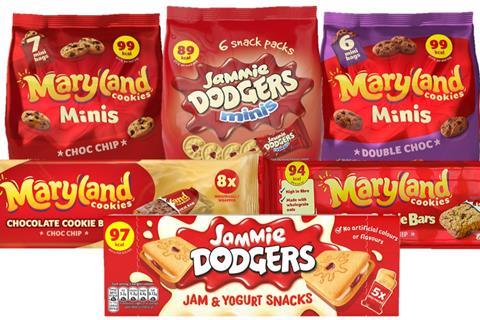 Burton's Biscuit Company has grouped all of its lower-calorie SKUs into a new 'Under 100 Calorie Club' range - and changed the recipe of its double choc flavour.
The range now includes the new Maryland Double Choc Minis, Jammie Dodgers Minis, Jammie Dodgers Jam & Yoghurt Snacks, Maryland Minis Choc Chip, Maryland Oaty Cookie Bars and Maryland Chocolate Cookie Bars.
Burton's marketing director Kate Needham said the demand for "permissible snacking options" was growing as shoppers "recognise the role that reduced calorie products can play in a balanced diet, particularly at the start of the year when calorie control is high on the agenda".
She added: "the Under 100 Calorie Club will help shoppers to easily identify the calorie content of our products and to make an informed choice."
Burton's will back the club with a range of in-store activations which it said would "bring the club to life and encourage consumers to think about responsible snacking".
It comes as sales of Maryland cookies have dipped this year, falling 5.6% to £38.4m. Jammie Dodgers, however, added a cool £1.75m to its value, growing 10.7% to £18.1m [Nielsen 52 w/e 7 September 2019]