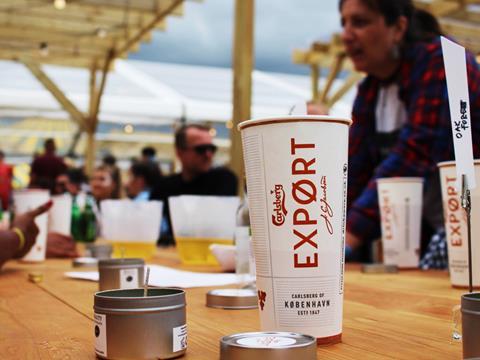 Carlsberg is planning a major rebrand of its flagship pilsner and a host of packaging changes across several of its other products, The Grocer has learned.
The full scope of the rebrand is yet to be revealed, but it is understood a significant reimagining of the lager brand is set for early 2019.
The brewer is also poised to reveal significant packaging changes across numerous products at an expo it is hosting in Copenhagen in September, with many of these changes playing up the products' sustainability credentials.
Carlsberg has spent much of the past two years attempting to reinvigorate its flagship lagers in the UK, where flagging consumer interest and past delistings in Tesco had sent sales into significant declines.
Pilsner is still in a 16.4% decline, but a £15m campaign with actor Mads Mikkelsen and major packaging update for its Export brand - as well as a shift in focus away from sports sponsorships towards live music - has almost returned Export to growth. This time last year, Export was down 29.8% (£22.5m), whereas now it is down just 1% (£400k), as our Britain's Biggest Alcohol Brands reveals [Nielsen 52 w/e 21 April 2018].
Carlsberg's UK VP for marketing Liam Newton previously told The Grocer the new design and focus on music had led to a 4% uplift in the number of people who thought it "tasted better", demonstrating "the importance of the look and feel of a product".