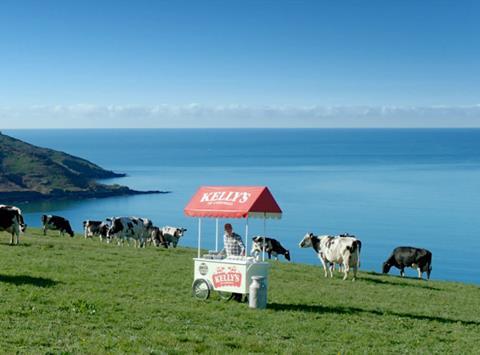 R&R Ice Cream is making Cornish language the star of its new £2m campaign for Kelly's of Cornwall, as the brand prepares to air British TV's first advert in the ancient tongue.
Debuting at 8.15pm on Monday (23 May) during Britain's Got Talent, the new ad features an actor speaking Kernewek Kemmyn while surrounded by Cornish cows.
The commercial will run widely until 27 June, with the brand predicting a reach of 23.9m people. It was developed by creative agency Isobel with input from the Cornish Language Partnership to ensure the script was linguistically correct.
To support the new drive, Kelly's yesterday sent Duke and Duchess of Cornwall lookalikes to Parliament to rally support for Kernewek Kemmyn. The brand is campaigning for funding for the teaching of Cornish, running a petition with more than 6,000 signatures.
The promotion will also be backed by PR, digital, experiential and social media activity.
"This is our biggest ever spend on the Kelly's brand," said Charlotte Hambling, head of UK marketing at R&R Ice Cream. "The creative is a quirky spot, which we believe will generate cut through to really reinforce our Cornish credentials and our exciting new range of Parlour flavours."
Kelly's relaunched its take-home Parlour selection in January, with four new flavours and redesigned packaging to include a clear lid that allows consumers to view the product as if they were looking through the glass at an ice cream parlour's counter.