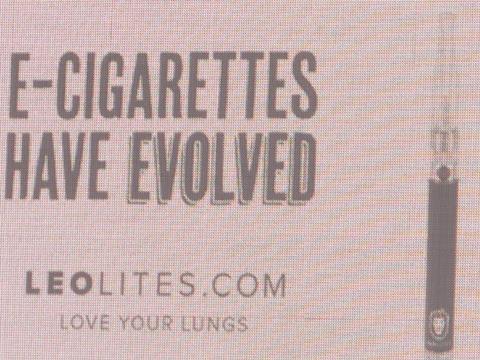 An advert for an e-cigarette that encouraged consumer to 'Love your lungs' has been banned by advertising watchdogs on the basis that it implied a health benefit from using the product.
The poster campaign for Leolites ran in bus shelters earlier this year and stated: "E-cigarettes have evolved. Leolites.com. Love your lungs."
The Advertising Standards Authority noted that Leolites' "Love Your Lungs" tagline was not a direct or implied health claim and that it was only intended to relate to the action of using an e-cigarette.
However, it upheld that it was likely that consumers, particularly those who were existing smokers, might interpret the claim 'Love Your Lungs' as meaning that the e-cigarettes contained properties that were not harmful to their lungs or that they would experience an improvement in the health of their lungs if they used them.
It based its ruling therefore on the fact it had not seen any evidence from Leolites to demonstrate the products were beneficial to the health of users' lungs or were less harmful than traditional cigarettes or other brands of e-cigarettes.
The ASA also told brand owner E&L Distribution to ensure it did not make any claims that implied its products were not harmful or were beneficial to the health of users' lungs in future ads, unless it held robust evidence to substantiate the claims.
This is the latest in a spate of ASA rulings over recent weeks against perceived health claims made by e-cigarette makers in their ads. Meanwhile the industry is still awaiting the findings of an ASA consultation into developing a code of practice for the advertising of e-cigs, which concluded in April.