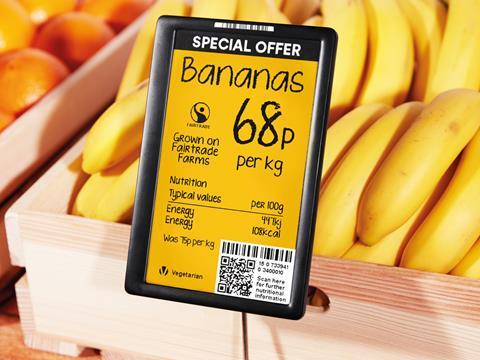 Supermarkets have stepped up their trials of electronic shelf labels ahead of an anticipated wider rollout.

Morrisons is testing two different forms of electronic shelf labels. This week it launched a three-month trial of colour LCD video shelf-edge ticketing, at a store in Guiseley, near Bradford.

The video technology, which The Grocer revealed in February was being tested by Waitrose in Cambridge, enables Morrisons to display prices, promotional messages and ad campaigns on shelves.

The Guiseley project is using 40 11-inch LCD clips on promotional ends at the store, to promote products including chocolate confectionery and biscuits.

"The trial is looking at ways to make the shopping experience more engaging," said a Morrisons spokeswoman. "It is about having the opportunity for more interactivity and theatre on the shelves and making them more interesting."

SFD Systems MD Chris Brown said: "Our video shelf-edge labels encourage customers to stop at the shelf and help them to make purchasing decisions by showing helpful information, product reviews and live price comparisons. This leads to a better in-store experience and increased sales. We look forward to announcing further new installations shortly."

New shelf-edge technology is also primed to tackle the thorny issue of transparency on promotions and enable retailers to quickly introduce price changes as supermarkets go head to head in an everyday low pricing battle.

Both Morrisons and Tesco are also trialling Displaydata technology, which uses Bluetooth to create more interesting electronic displays.

Displaydata marketing director Paul Milner said the "new generation" of electronic shelf label technology could have huge advantages for shoppers and retailers. "With ESLs it's also easier to react to competitors' offers," he said. "Retailers want to earn consumer trust - that means ensuring prices align across channels. It was only a few months ago that retailers were criticised for not ensuring that prices at the checkout matched those on shelves. And with some grocery retailers selling as much as half of their inventory on promotion at any point in time, being able to centrally manage the information and pricing on any number of labels, across any number of stores - in seconds - means it's far easier to ensure price and promotional changes are made quickly and most importantly that this is done accurately."

In February, a BBC investigation into out-of-date promotions at dozens of Tesco stores shone the spotlight on the need for greater transparency in stores, with a probe finding shoppers were overcharged at two-thirds of Tesco stores visited by an undercover reporter.

Supermarkets are nervous at suggestions they are planning to use the technology to introduce so-called "surge" pricing, whereby the prices of goods change at the flick of a switch to exploit consumer demand.

In June, The Telegraph claimed several leading supermarkets, including Tesco and Morrisons, were planning to install "surge pricing" systems where prices rise and fall according to demand in stores. However, both supermarkets denied this was connected with the trials.