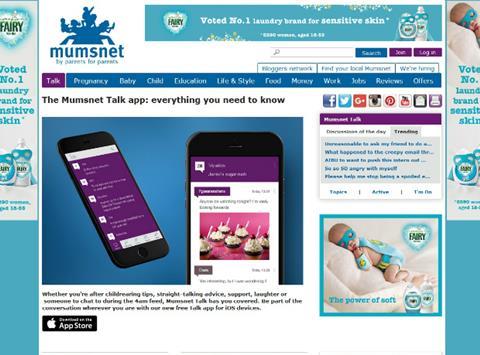 Fairy Non-Bio has teamed up with Mumsnet in a six-figure deal that will see the two working together in a year-long strategic partnership.
The Procter & Gamble laundry brand is to sponsor the Mumsnet Talk app, one of three apps offered by the parenting website, with almost two-thirds (64%) of visits to its forums via mobile devices and one million page views per day via iOS.
The new partnership will also include co-branded activity, including bespoke display advertising, shareable and static content, sponsored discussions, product testing, and a series of 10 podcasts.
"Day-to-day parenting is many things – hectic, emotional, funny – as the Mumsnet forums demonstrate," said Fairy brand manager Faye Cruickshank. "Fairy Non-Bio is looking forward to partnering with Mumsnet to make each moment with the kids a bit more memorably soft."
Mumsnet founder and CEO Justine Roberts added: "Our forums are absolutely at the heart of our site, and it's great to have Fairy Non-Bio sponsoring this app, which will be a fundamental part of the Mumsnet experience for many users."