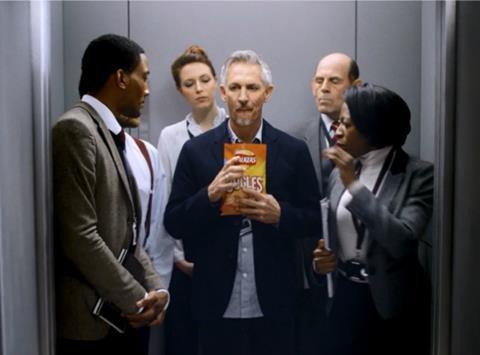 PepsiCo is set to air a TV campaign to drive demand for Bugles, the latest addition to the Walkers' portfolio in the UK.
Making its debut on 4 July, the promotional push – aimed at encouraging consumers 'to embrace their playful side' – stars long-time brand ambassador Gary Lineker. He is seen in a lift wearing Bugles on his fingers, before being joined by colleagues who try to eat his cone-shaped crisps. The former England striker swats their hands away, and the lift door closes.
The door then opens to reveal Lineker has been tied upside down by his co-workers, who flee with his packet of Bugles. The 20-second ad closes by describing the crisps as "the crunchy cones you can't keep your hands off".
Bugles, which launched in the UK in April, are already "incredibly popular" throughout Europe and North America, said PepsiCo marketing director Thomas Barkholt.
"We believe bringing the fun shape and sensational flavours to the UK will be a great success. We are delighted to be featuring Gary Lineker in our newest mischievous TV campaign, and are confident the advert will encourage in-store excitement and drive incremental sales for retailers," he added.