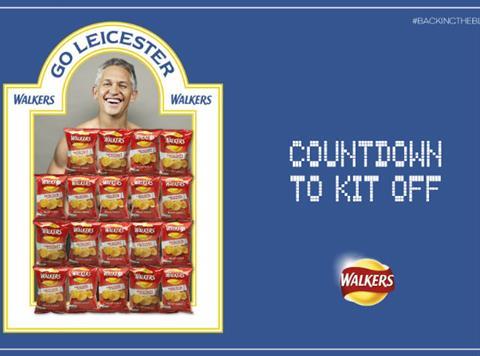 Walkers has launched 'Countdown to Kit Off', a promotion that sees long-time ad star Gary Lineker digitally stripping off on screens around Leicester, home of the crisps brand.

The activity is a response to the broadcaster's promise to present Match of the Day in his underpants if Leicester City win the Premier League.

An image of an apparently naked Lineker covered head to toe in crisp packets is being driven around the city on screens installed on vans. The closer the football club gets to the Premier League trophy, the fewer packets the ex-England striker has to conceal his modesty. The image reacts in real time, meaning a packet disappears for every game played and every point won.

When Leicester City play Manchester United on 1 May, Walkers will take over the digital screen in Manchester Piccadilly railway station, while the same stunt will be pulled at London Victoria station for the Chelsea match on 15 May.

"Everyone at Walkers is incredibly proud of our Leicester heritage and we're in full support of our local team. We wish the Foxes the best of luck," said marketing director Thomas Barkholt.

The crisps brand is also supporting its home football club through a partnership with the Leicester Mercury and via a national digital and social media campaign.