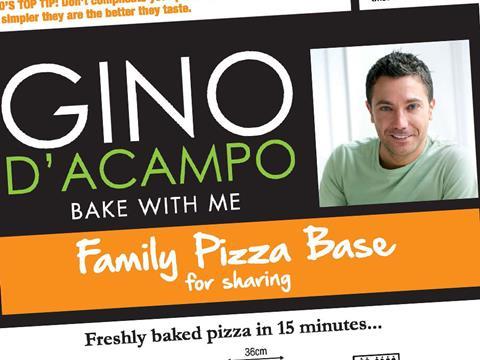 Celebrity chef Gino D'Acampo is launching a range of fresh pizza bases into Asda chillers under the Bake with Me brand.
The pre-rolled range rolls out on 5 October in three varieties: individual, family size and family size with a separate jar of pizza sauce.
"I endlessly show people how to make dough, but people just don't do it," said D'Acampo, who teamed up with Highgrove Foods to create the range. "It's messy, you need the right yeast and you need time. What we have done is take away the aggravation and the hassle. We flatten it for you and then customers can create."
Asda said it was "really excited" to launch the range. "They offer a great choice for our Asda customers who love to get creative by being able to make their own pizzas with fresh and ready to top pizza dough," added a spokeswoman.
"We are delighted to be working with Gino on such a great product & concept," said John Goodwin, commercial director at Highgrove Foods.
"We believe the range will add real innovation to a very mature pizza market and increase usage & occasion. All of our consumer research has indicated that this is what consumers are looking for, and they want to be involved in making pizza especially with their children."