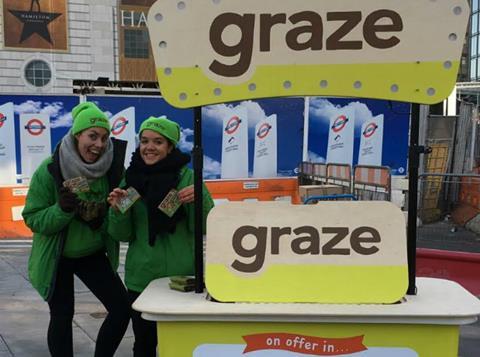 Snacking brand Graze is giving out one million samples in London this month to raise awareness of its retail range.
Promoters will distribute packs of Graze's Veggie Protein Power – one of its "bestselling" retail varieties with spicy chickpeas, edamame beans and black pepper cashews – outside busy central London stations until 3 February.
The brand has timed the campaign to coincide with the increased interest in healthy eating in January.
Hotcow, the sampling agency carrying out the campaign, was confident the activity would boost sales. ""We know from previous research that brand recognition can increase by over 40% with commuters taking the product to work and having it on their desk," said Sally Durcan, MD of Hotcow. "We also know that reminding people of the brand taste has a significant impact in keeping existing consumers buying the brand and new ones moving in to try the brand."
Graze launched into retail in summer 2015 with a rollout into 850 Sainsbury's stores. Its snacks are now available in 7,000 stores across the UK including Sainsbury's, Tesco and Asda branches.