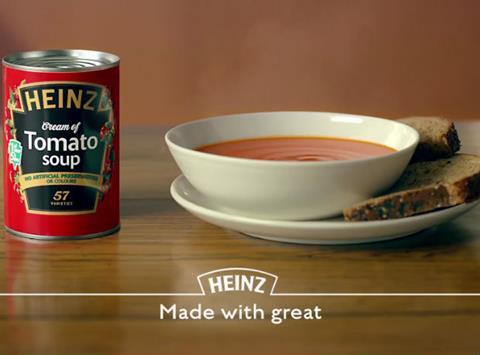 Kraft Heinz is set to kick off a push for Heinz canned soup – the first half of an £8m media investment for its larger soup portfolio.
The £4m Made with Great campaign will make its television debut on 25 September, highlighting the quality of the ingredients used in the Heinz Classic Soups range and underlining the role of the can in protecting its contents without the need for artificial preservatives or colours.
Replacing last year's Love Soup commercial, in which people puckered up in preparation for a sip, the new ad opens on tomatoes bursting as they land in simmering tomato soup. The camera pulls out to show that the soup is still in its can – surrounded by a halo of light. It is then revealed that the can is sitting in the middle of a dining table, around which a family is eating soup.
The 20-second clip was aimed at "driving category engagement and reappraisal of canned soups" said Heinz, which has seen the Classic range lose 2.6% of value, to become worth £139m in an ambient wet soup category down 5.8% to £255.4m [IRI 52 w/e 20 May 2017].
The brand would be "driving reappraisal of canned soup through highlighting our high quality ingredients with no artificial colours or preservatives", said Steve Chantry, commercial director at Kraft Heinz. "As brand leader, it is our role to spearhead this, while also reminding consumers to enjoy our delicious soup."
Heinz will launch the second instalment of its drive in October, focusing on its new Soup of The Day range in a carton, supported by TV, VOD, digital and social.