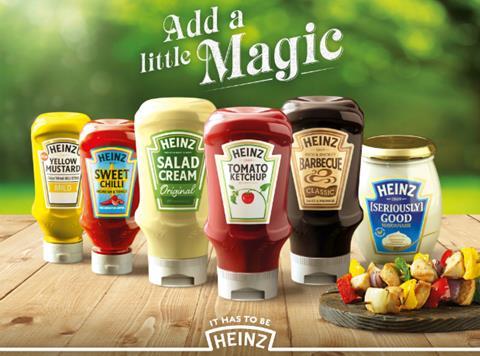 Heinz has launched a £5m summer advertising push for its sauces range, with the strapline 'Add A Little Magic'.

Beginning at the end of May in time for BBQ season, the campaign will include TV, radio and digital advertising, focusing on the full line-up of Heinz sauces, which includes Tomato Ketchup, Salad Cream, BBQ and Sweet Chilli Sauce, as well as the most recent additions, Seriously Good Mayonnaise and Yellow Mustard.

The brand will air 10-second and 30-second commercials across a range of popular TV shows, marking the first small screen outing of Yellow Mustard since its launch in March.

"Although we already see sauces strongly performing during the summer months, Heinz has identified a real opportunity for retailers to upsell their range of sauces specifically around barbecue occasions," said Joel Hughes, senior brand manager at Heinz.

"Playing on strong emotional connections, Heinz's 'Add a Little Magic' campaign will drive key messaging to consumers, highlighting Heinz as a trustworthy brand that can help turn a good moment into a great one," he added.