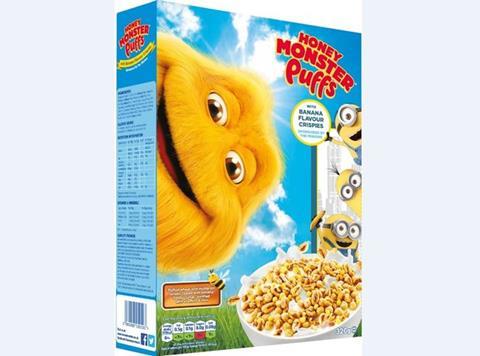 Honey Monster Foods has become the latest food and drink business to team up with Despicable Me's Minions.
The supplier is launching a limited-edition banana-flavoured version of its Honey Monster Puffs into Asda stores from 22 June ahead of a wider launch in the convenience channel the following week. They will be available in in 320g (rsp: £1.50) and 450g (rsp: £2) formats.
A co-branded pack design shows the Minions on the front of pack, as well as featuring a large Minion cut-out on the back of pack, and is designed to tap interest in the mischievous yellow creatures as their spin-off movie opens on 26 June.
The limited-edition comes nine months after Sugar Puffs was renamed Honey Monster Puffs and relaunched with a revised recipe containing less sugar and 20% more honey.
"It's a really exciting partnership and with the cereal category currently losing a bit of ground, we hope this will bring a smile back to breakfast-time," said Honey Monster Foods marketing director Andy Valentine.
A raft of brands have secured licensing deals with the Minions characters, who made their debut in Despicable Me in 2010 and appeared in its sequel in 2013. Among the brands to have linked with the characters are Petits Filous Frubes, Capri-Sun, Green Giant and Haribo.
Last week, toy market analysts NPD Group said Minions had contributed to supermarket sales of movie-related toys doubling in the past two years. Movie toys accounted for 17% of toys sales through the grocery channel in the year to 2 May.